2009 NHL Preview: New York Islanders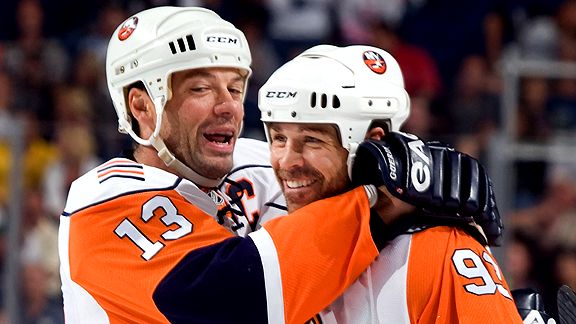 We've partnered with On Goal Analysis to bring you a team-by-team preview of the upcoming NHL season. (Just scroll down on the OGA website and hit the calendar.) Here is the preview for the New York Islanders…
SUMMER SPLASH
* While not on the ice, the Islanders made big news in the game of staying on the Island. Owner Charles Wang and the Lighthouse Project have made significant strides in the push to replace aging Nassau Veterans Memorial Coliseum with a new, mixed use sporting complex. For the Town of Hempstead, it means much needed development and an infusion of cash. For the Isles Faithful, it means there is still no island in the middle of Kansas City. And let's keep it that way. The Project next address zoning issues in another important meeting with the Town on September 22nd and fans are asked to continue to lend their support and voices. Get more info at www.lighthouseli.com
* The Islanders also did something related to improving their chances of making the playoffs this season – won the draft lottery and used the pick to snag the OGA-named, Long Island Ice-T, John Tavares. The much sought after Tavares was proud to be drafted by the Islanders (remember when some wondered if he would pull a Lindros?) and he is even more proud to help carry some of the Weight, er, weight of lifting up the franchise. Expectations are high, the pressure is on but one man does not a team make. And he wasn't the only first round draft pick the Islanders had.
* Defenseman Calvin de Haan was selected just 11 picks after Tavares when Garth Snow and Co. worked some magic to move up in the draft (moving twice from pick 26th to land at 12) for their second pick. While the Long Island Ice-T has garnished tons of press and blatherings during the off-season, de Haan has quietly worked on what he needs to do to make the team this coming season. And things are looking pretty good for him in camp so far. He scored his first goal against Edmonton in the Islander's second pre-season game (de Haan's first) and is impressing many in camp with his demeanor as well as play-making abilities. Will he make the cut at the end of camp? Stranger things have happened (see 15-year contracts…)
* Management shocked the NHL when they brought in two more starting-caliber goalies to back up their number one starting goalie who may not be able to start this season. Rick DiPietro played five games last season before succumbing again to injury. Is he ready to start this October? Nobody knows…but Dwayne Roloson and Martin Biron were also signed during the off-season so Ricky D does not have to push his recovery schedule. But secretly, Rangers fans are hoping they decide to play each goalie in each game. Each goalie would play one period. It would be like those child-actors who get cast in a TV sitcom but, because they are one of a set of twins/triplets, etc., their siblings get to work, too, alternating episodes. And then we, the viewers, are left wondering, 'now, which goalie was that? they look so much alike…!'
Click here to read the rest of the preview (which includes the site's unique Playoff Qualifying Curve and fantasy information) at the On Goal Analysis site.