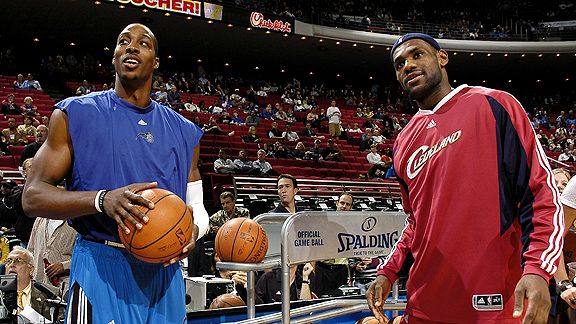 It's always funny to hear pundits say that one team can't beat another in a seven-game series. In most cases, those teams can spring the upset, but that doesn't mean that they will. Such is the case in the Eastern Conference Finals where the Orlando Magic will try to upend the Cleveland Cavaliers.
No team has been more impressive in the postseason than the Cavs. They swept both the Pistons and the Hawks, and seem destined for the Finals. They have the best player in the league in LeBron James, a sharpshooting sidekick in Mo Williams and a host of players willing to fill their respective roles. Simply stated, they look unstoppable right now.
Conversely, the Magic struggled at times in their seven-game series against the Celtics, though that might have more to do with Boston's defense and championship pedigree than anything the Magic were doing wrong. This Cavs/Magic series would be a lot more interesting if Jameer Nelson were healthy, but Rafer Alston has been a decent stopgap at point guard, and Hedo Turkoglu and Rashard Lewis are proving to be nice complements for big man Dwight Howard. The Magic are built like the Rockets were in the Hakeem Olajuwon era in that they have a center that demands a double team and have surrounded him with a number of players who can make teams pay from the perimeter. The problem is that Howard isn't nearly the passer or the free throw shooter that Olajuwon was, so he's not a great option in crunch time. The Magic have a tendency to fall in love with the long ball and don't have a guy who can get to the rim on a consistent basis. But if Orlando is knocking down their threes (as they were in Game 7 of the Boston series), they're nearly unstoppable.