Texas to face LSU in 2009 College World Series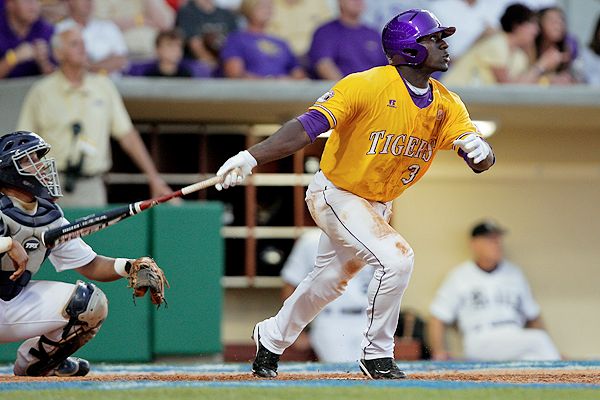 Thanks to Connor Rowe's game-winning solo home run with two outs in the bottom of the ninth inning to beat Arizona State 4-3 on Friday night, the Texas Longhorns are going to the Finals of the 2009 College World Series to face LSU. The Tigers hammered Arkansas 14-5 to eliminate the Razorbacks and head to the Finals.
The best of three Championship Series between LSU (54-16) and Texas (49-14-1) will start Monday, June 22 at 7:00 p.m. ET. Game 2 will be at 7:00 p.m. ET on Tuesday and Game 3 (if necessary) will be played at 7:00 p.m. ET Wednesday, June 24.
No team has as many CWS wins than Texas, who has 81. LSU is tied for 10th on the all-time wins list with 33. The last time the Long Horns were in the Finals was 2005, when they beat Florida 4-2 and 6-2. The Tigers won the CWS the last time they were in the Finals as well, beating Stanford in 2000.
One player to keep an eye on this series is LSU outfielder Jared Mitchell, who was selected with the 23rd overall pick in the first round of June's MLB draft by the Chicago White Sox. Mitchell is hitting .400 (4 for 10) so far in this CWS, with two RBI, a run scored and three walks.
Mitchell was highly considered the best college athlete in the MLB draft as he was also a receiver for the LSU football team. He's a solid hitter who could eventually find his power stroke and he's got great speed. The downside is that he's extremely raw, but he'll be fun to watch next week in the CWS.