Team by team MLB draft rankings: Best drafts of the last 10 years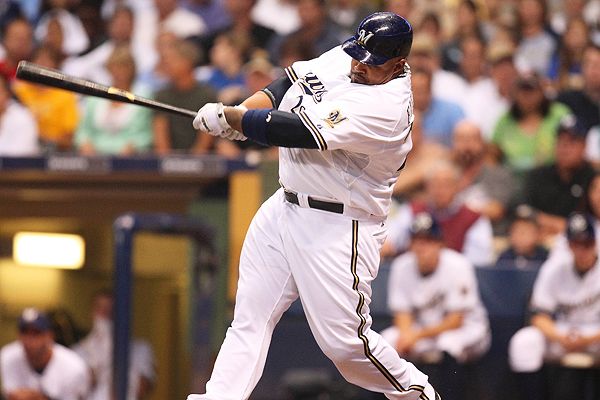 With the 2009 MLB Draft set to kickoff at 6:00 ET tonight on the MLB Network, SI.com did a cool feature in which they rated how each club has fared over the past 10 years when it comes to the draft.
The Brewers were rated number one and it's hard to argue with the ranking after looking at the names Milwaukee has drafted over the years: Prince Fielder, Corey Hart, J.J. Hardy, Manny Parra, Rickie Weeks, Ryan Braun and Yovani Gallardo. Amazingly, this club also drafted Hunter Pence (Astros), but couldn't sign him.
The Red Sox were rated No. 2, with Kevin Youkilis, Jonathan Papelbon, Dustin Pedroia, Jon Lester and Manny Delcarmen leading the way, but the site left off a glaring omission: Jacoby Ellsbury. The Rays actually drafted Ellsbury in the 2002 draft, but never signed him. The Sox then nabbed him with the 23rd overall pick in 2005 and he's currently their starting centerfielder.
Speaking of the Rays, I wouldn't be surprised to see the Tampa ranked higher than No. 4 in the next couple of years. Evan Longoria, Carl Crawford, B.J. Upton, James Shields, Andy Sonnanstine and David Price are just some of the names they've drafted in the past 10 years. Don't forget that they were the team that also drafted Josh Hamilton before he got injured and then became the poster child of what not to do when you're an inspiring ballplayer with loads of free time on your hands.
You look at a club like the Nationals ranked No. 8 and you wonder why they've been so awful over the years despite drafting so well. Then you realized they dealt Grady Sizemore, Cliff Lee and Brandon Phillips all in the same trade for Bartolo Colon and it all starts to make sense.
If you're wondering whom SI had ranked last, it was the Astros; only Hunter Pence was worth noting of the players Houston drafted the past 10 years. The White Sox were second to last, although if Josh Fields, Chris Getz, Clayton Richard and Gordon Beckham develop like the club hopes, I highly doubt Chicago will be ranked that low again if SI does another ranking like this in the next couple of years.
Posted in: MLB
Tags: 2009 MLB Draft, Andy Sonnanstine, B.J. Upton, Best MLB drafts, Best team MLB drafts, Boston Red Sox, Brandon Phillips, Carl Crawford, Chicago White Sox, Chris Getz, Clayton Richard, Cliff Lee, Corey Hart, David Price, Dustin Pedroia, Evan Longoria, Gordon Beckham, Grady Sizemore, Hunter Pence, J.J. Hardy, James Shields, Jon Lester, Jonathan Papelbon, Josh Fields, Kevin Youkilis, Manny Delcarmen, Manny Parra, Milwaukee Brewers, MLB Draft, Prince Fielder, Ryan Braun, Tampa Bay Rays, Washington Nationals, Which MLB teams have had the best drafts?, Yovani Gallardo