Report: Miguel Cabrera involved in "spat" with wife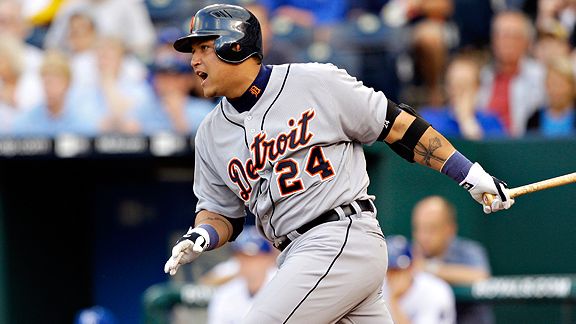 According to a report by the Detroit Free Press, Tigers' slugger Miguel Cabrera was involved in a spat with his wife early Sunday morning. Police have determined that he and his wife were guilty since they were both aggressors in the argument.
So this isn't a story then, right? Both he and his wife are guilty – done deal. Well, not exactly.
Apparently the crux of the argument was that Miggie was out drinking late the night before and the fight took place around 6:00 a.m., only hours before one of the Tigers' most important games of the 2009 season. (Detroit battled with the Twins for the AL Central crown throughout the weekend and will now have a one-game playoff on Tuesday to determine the winner.)
Cabrera arrived at Comerica Park on Saturday with visible abrasions on his face. He told FoxSports.com his dog had done it. Cabrera, 26, is married with a daughter.

"No comment," Cabrera said Sunday morning, when asked about the marks on his face. "I'm looking right now for a win today."
Have you told your teammates what happened?

"No."

Then Cabrera said: "After the game. Right now, I won't talk before the game. I've got to get ready for the game. Please … please. Thank you."
After the Tigers' 5-3 victory, Cabrera declined comment again. He went 0-for-3, finishing the White Sox series 0-for-11.
Hey, loved ones fight – you can't hold that against Cabrera. But the fact that he was out drinking late the night before a huge game raises some eyebrows about his dedication.
Then again, Cabrera leads the Tigers in home runs (33), RBI (101), runs scored (95) and OPS (.936), so nobody can question his production. Plus, there's no guarantee that drinking the night before a game will ultimately hold a player back on the field. (It's been well documented that Babe Ruth hit the sauce hard in his day and I believe he still put up some decent numbers.)
But if Cabrera goes 0-for-4 in Detroit's one-game playoff against Minnesota on Tuesday and the Tigers fail to win the AL Central, the media will ultimately tie this incident into his failures on the field. Hopefully for his sake, the Tigs win and this will all blow over. But if not, Cabrera will face some stiff questions.