Tigers to trade Miguel Cabrera? Not a chance.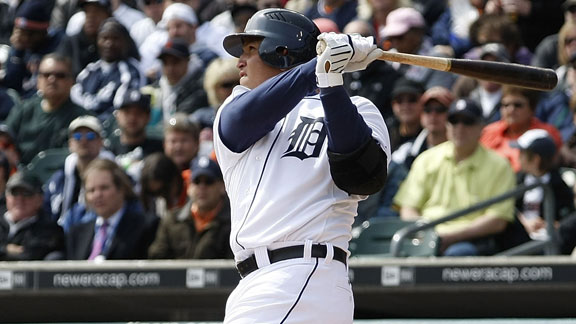 Tigers' GM Dave Dombrowski immediately shot down rumors that Detroit could trade slugger Miguel Cabrera by the end of the season.
With one of his strongest replies to any question he's been asked in his current role as the Tigers president and general manager and chief executive officer, Dave Dombrowski on Tuesday called the repeated speculation he's heard on ESPN that the Tigers could make Miguel Cabrera available for a trade this season "completely absurd."

"Not only that, but it upsets me," he said. "We have no intention whatsoever to trade him."
Dombrowski said he's heard such speculation more than once on ESPN.

"There's nothing that can happen this year that would make us think about trading Miguel Cabrera," he said. "The guy's only 26 and might be battling for the MVP award. It's not going to happen. We have an owner (Mike Ilitch) that would never let it happen."
The Tigers gave up a five-tool prospect in Cameron Maybin as part of the package to acquire Cabrera from Florida, so why would they deal him this season? Like Dombrowski said, Cabrera is 26 years old and an MVP candidate – it's not going to happen.