What's wrong with BYU's offense?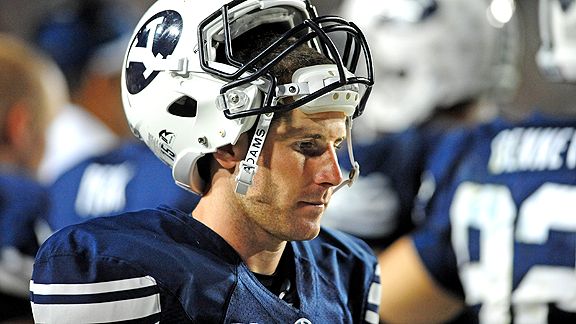 Despite turning the ball over three times, No. 20 BYU defeated Utah State 35-17 on Friday night to improve to 4-1 on the season. A 48-yard touchdown reception by Luke Ashworth from Max Hall broke a 7-7 tie in the second quarter, then Manase Tonga scored on a three-yard touchdown to give BYU a 21-7 halftime lead. The Cougars never looked back.
Junior running back Harvey Unga rushed for 118 yards and a touchdown on 21 carries to lead BYU, but BYU's offense struggled on a whole.
The Cougars were held under 300 yards for the second straight game and Hall continues to struggle under center. He's now thrown two or more interceptions in four of his last five games and has 10 interceptions to 11 touchdowns on the season.
Thanks to Unga's second straight 100-yard rushing game, BYU was able to overcome Hall's issues moving the ball in the passing game. But what happens when the Cougars have to play TCU in a couple of weeks? The Horned Frogs have one of the fastest defenses in the nation and BYU isn't going to be able to turn the ball over three times against TCU and survive.
The good thing for Hall and head coach Bronco Mendenhall is that the Cougars have UNLV and San Diego State over the next two weeks to figure things out. But the Mountain West Conference is going to come down to that October 24 matchup with TCU, so BYU needs to iron out its issues soon.