Ten Surprises from Week 1 in the NFL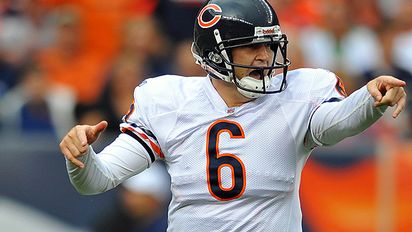 Who would have thought that Jay Cutler's debut for the Bears would go so poorly? How about Jake Delhomme picking up right where he left off in last year's playoffs? The 49ers beat the Cardinals on the road?!
Below are 10 surprises from Week 1 in the NFL. Feel free to add what surprised you in our comments section.
1. Cutler's atrocious Bears debut.
When Chicago acquired quarterback Jay Cutler from the Broncos this offseason, fans immediately started believing that their Bears were a legitimate Super Bowl contender. After all, the only thing that had held this team back over the years was not having a franchise quarterback. Now that the Bears had one in Cutler, the sky was the limit. Given the lofty expectations that fans had for the Bears, Cutler's debut Sunday night in Green Bay was startling. The numbers were bad enough: 17 of 36, 277 yards, 1 TD, 4 INTs. But it was Cutler's demeanor during the game that was most troubling. He constantly threw across his body into traffic, was rarely on the same page as his receivers and it appeared as though he flat out stopped trying after throwing his third pick of the night. Granted, there's still a lot of time left. But nobody expected Cutler to get off to this bad of a start.
2. Miami shoots itself in the foot.
Even though Atlanta's defense rose to the challenge on Sunday, it was still quite surprising to see the Dolphins routinely beat themselves with costly turnovers and dumb penalties. Early in the second quarter, Miami drove to the Falcons' 16-yard line only to have tight end Anthony Fasano fumble after receiving a bone crunching hit from Mike Peterson. Cornerback Brian Williams returned the gift 53 yards and Atlanta capitalized with a Jason Elam 36-yard field goal. Midway through the third, the Dolphins again drove into Atlanta territory, but quarterback Chad Pennington didn't see Peterson waiting in the flats and was picked off by the linebacker. The Falcons again capitalized, this time on a Matt Ryan to Tony Gonzalez 20-yard touchdown pass to give them a 16-0 lead. On Miami's very next series, Fasano fumbled again, only this time Elam missed a 38-yard field goal. Later in the fourth, the Dolphins had a touchdown taken off the board after offensive lineman Vernon Carey was called for holding. This was a Miami team that won the AFC East last year because they did all the little things right. They never hurt themselves with mistakes and always capitalized on their opponents' miscues. But the opposite happened on Sunday and considering Tony Sparano's team isn't talented enough to overcome turnovers and penalties, the Dolphins can't have what happened in Atlanta become a routine occurrence.