Ten Surprises from Week 1 in the NFL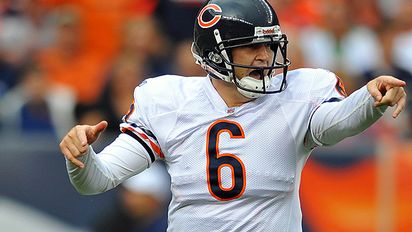 Who would have thought that Jay Cutler's debut for the Bears would go so poorly? How about Jake Delhomme picking up right where he left off in last year's playoffs? The 49ers beat the Cardinals on the road?!
Below are 10 surprises from Week 1 in the NFL. Feel free to add what surprised you in our comments section.
1. Cutler's atrocious Bears debut.
When Chicago acquired quarterback Jay Cutler from the Broncos this offseason, fans immediately started believing that their Bears were a legitimate Super Bowl contender. After all, the only thing that had held this team back over the years was not having a franchise quarterback. Now that the Bears had one in Cutler, the sky was the limit. Given the lofty expectations that fans had for the Bears, Cutler's debut Sunday night in Green Bay was startling. The numbers were bad enough: 17 of 36, 277 yards, 1 TD, 4 INTs. But it was Cutler's demeanor during the game that was most troubling. He constantly threw across his body into traffic, was rarely on the same page as his receivers and it appeared as though he flat out stopped trying after throwing his third pick of the night. Granted, there's still a lot of time left. But nobody expected Cutler to get off to this bad of a start.
2. Miami shoots itself in the foot.
Even though Atlanta's defense rose to the challenge on Sunday, it was still quite surprising to see the Dolphins routinely beat themselves with costly turnovers and dumb penalties. Early in the second quarter, Miami drove to the Falcons' 16-yard line only to have tight end Anthony Fasano fumble after receiving a bone crunching hit from Mike Peterson. Cornerback Brian Williams returned the gift 53 yards and Atlanta capitalized with a Jason Elam 36-yard field goal. Midway through the third, the Dolphins again drove into Atlanta territory, but quarterback Chad Pennington didn't see Peterson waiting in the flats and was picked off by the linebacker. The Falcons again capitalized, this time on a Matt Ryan to Tony Gonzalez 20-yard touchdown pass to give them a 16-0 lead. On Miami's very next series, Fasano fumbled again, only this time Elam missed a 38-yard field goal. Later in the fourth, the Dolphins had a touchdown taken off the board after offensive lineman Vernon Carey was called for holding. This was a Miami team that won the AFC East last year because they did all the little things right. They never hurt themselves with mistakes and always capitalized on their opponents' miscues. But the opposite happened on Sunday and considering Tony Sparano's team isn't talented enough to overcome turnovers and penalties, the Dolphins can't have what happened in Atlanta become a routine occurrence.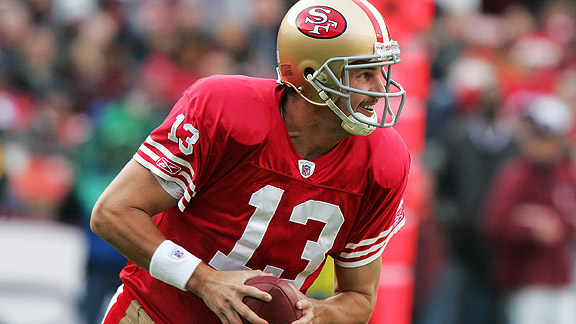 3. 49ers upset the Cardinals.
Maybe the 49ers' impressive 20-16 win in Arizona on Sunday shouldn't be that surprising. After all, the Cardinals lost two offensive coordinators this offseason (including playcaller Todd Haley) and Mike Singletary has the Niners playing hard again. San Fran also features an underrated secondary, one in which that neutralized the effectiveness of Larry Fitzgerald and Anquan Boldin. Still, it was rather surprising that after Shaun Hill found Frank Gore on a three-yard touchdown pass with roughly seven minutes remaining in the game, that the Cardinals could do nothing on their final three series on offense. Credit San Fran for forcing Kurt Warner to go with underneath routes (running back Tim Hightower racking up 12 catches for 121 yards is shocking on its own) and not being able to throw vertically as well as he did last year. This win will help Singletary instill confidence in this team – confidence that could take the 49ers far this season.
4. Delhomme picks up right where he left off.
The 2008 season ended in disaster for quarterback Jake Delhomme and the Panthers. Delhomme was picked off five times and fumbled once, as Carolina was smacked 33-13 by the eventual NFC Champion Cardinals in the divisional round of the playoffs. Given how jarring his performance was in that game, it would have been a surprise to see Delhomme come out in the Panthers' 2009 opener and play as poorly as he did against the Cardinals. Wouldn't you know it, that's exactly what happened. Delhomme was a disaster again on Sunday, completing just 7 of his 17 pass attempts for 73 yards, no touchdowns and four interceptions. Delhomme was the Eagles' best player as Philly rolled to a 38-10 victory in Charlotte. Perhaps what's more shocking than Delhomme's brutal performance is the fact that Carolina refuses to develop a young signal caller behind their awful starter. Not to mention, the team also signed Delhomme to an extension this offseason despite his age and inconsistent play. The Panthers' running game is still one of the best in the NFC, so as long as Delhomme can limit his turnovers to one or two a game instead of his normal four or five, then the Panthers could still be competitive this year. If not, it's going to be a long season for John Fox and company in Carolina.
5. Falcons defense rebounds from poor preseason effort.
Heading into Week 1, the Falcons had major concerns about their defense after the unit was routinely torched in preseason. Most troubling was the play of the secondary, which couldn't get off the field on third downs, even when opponents faced third-and-a-mile situations. But on Sunday, Atlanta played like Mike Smith's old Jaguar defenses in that they were fast, aggressive and tenacious. They limited the Dolphins to 163 passing yards, forced four turnovers and sacked quarterback Chad Pennington four times. Given how potent their offense will be this year, if the Falcons' defense can play as well throughout the season as it did on Sunday, then Atlanta goes from being a playoff contender to a Super Bowl contender.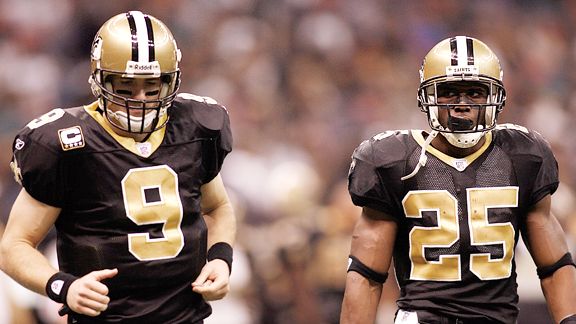 6. Bush's tough day.
In a game in which his team racked up 45 points, 515 total yards of offense and six touchdowns, Reggie Bush was non-existent on Sunday. Drew Brees shredded the Lions for 358 yards and six touchdowns, while running back Mike Bell racked up 143 rushing yards on 28 carries. Bush only mustered 14 yards on seven carries and muffed two punts. His greatest contribution to the Saints' big day was catching five passes for 55 yards. For a player that is supposed to be feared around the league for his big play ability, Bush was incredibly average on Sunday, although in fairness he has been dealing with a calf injury. Still, if Bell can rush for 143 yards, one would think that Bush could have done a little better than 14 yards on seven carries.
7. Texans come out flat.
Pundits couldn't stop gushing about how the Texans had finally turned the corner as a franchise and would compete for a playoff berth this season. That could still happen, although their performance yesterday against the Jets (a 24-7 New York victory) certainly didn't instill any confidence. For a team that many considered a "sleeper" candidate this preseason, Houston came out flat and uninspired in their opener. They were playing a rookie quarterback making his pro debut on the road and yet the Texans allowed Mark Sanchez to complete 18 of his 31 pass attempts for 272 yards and a touchdown. Houston's run defense was a disaster too, allowing the Jets to rack up 190 rushing yards on 42 attempts (4.5 YPC). Considering that their run defense was an issue last year, that's not a good sign. This was only their first game, so maybe the Texans will rebound and still compete for a playoff berth. But they sure looked like the same Houston team on Sunday that has come up short the past couple of years.
8. Lefwich isn't sacked once.
The Cowboys' defense prides itself on making opposing quarterbacks uncomfortable in the pocket. Thanks to OLB/DE DeMarcus Ware, Dallas routinely gets pressure on the quarterback and one would have thought that the Cowboys would have racked up plenty of sacks on Sunday facing the immobile Byron Leftwich in Tampa. But surprisingly, Leftwich wasn't sacked once, although he was pressured throughout the day. The fact that Dallas threw up a goose egg in the sack column is a testament to how good the Bucs' offensive line is. The starting five of Jeremy Trueblood, Davin Joseph, Jeff Faine, Jeremy Zuttah and Donald Penn form one of the more underrated offensive lines in all of football, especially from a run-blocking standpoint. Running backs Cadillac Williams and Derrick Ward should turn in banner years thanks to this line.
9. The Rams get shut out.
There's no doubt about it: St. Louis is a bad football team. But considering the Rams are heading in a new direction under first-time head coach Steve Spagnuolo, one would have thought that they could have mustered a lousy field goal in their opener. The Seahawks are going to be a much improved football team this year, but there's still no excuse for an offense that employs Steven Jackson at running back not to score any points. Even as bad as the Rams were last year, they were never shut out. Not once. This was a worst-case scenario for Spagnuolo.
10. Stokley's amazing circus catch.
This was just bananas: