Tigers acquire Jarrod Washburn from Mariners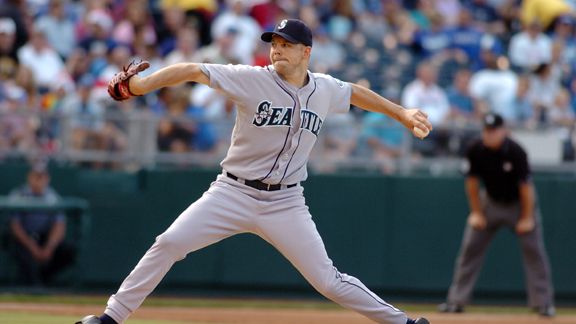 The Tigers acquired left-handed pitcher Jarrod Washburn from the Mariners on Friday in exchange for minor league prospects Luke French and Mauricio Robles. Both Fench and Robles are left-handed pitchers as well.
Washburn is no spring chicken at 34, but his 2.64 ERA and 1.07 WHIP makes him one of the better values on the trade market and Detroit didn't have to give up much to acquire him. His pitching approach should do wonders in spacious Comerica Park.
Washburn is a workhorse and is a solid addition to a Tigers' starting rotation that already features Justin Verlander, Edwin Jackson and youngster Rick Porcello. He'll eat up some innings, give the bullpen a much-needed break and gives the club a boost as they contend with the White Sox and Twins in the AL Central.
As for Seattle, they seeming undersold Washburn. French did post a 3.38 ERA in seven appearances this season, but his ceiling isn't very high and Robles has some potential, but is extremely raw at this point.
I love the move for the Tigers, but think the Mariners could have done better.