Junior Seau chats with The Scores Report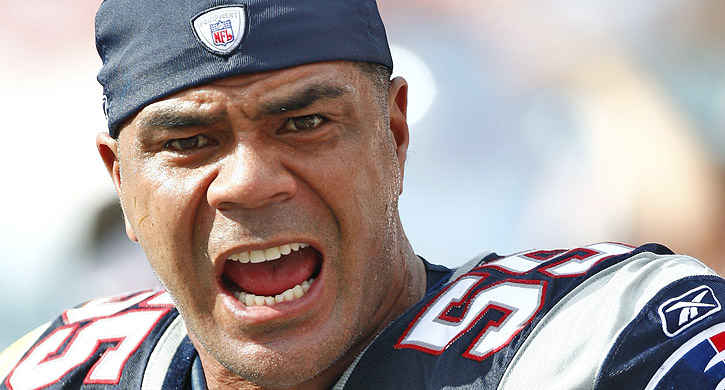 What more can you say about Junior Seau that you can't by listing his accomplishments? In his 19-year career, Seau was a seven-time first-team All-Pro, a 12-time Pro Bowler, the 1992 NEA NFL Defensive Player of the Year, and the 1992 UPI AFC Defensive Player of the Year. He's amassed 1,826 tackles, 56.5 sacks and 18 interceptions over his career. He was also part of two Super Bowls, including the 16-0 New England Patriots squad.
Recently, Junior teamed up with Combos to help them roll out their "Tackle Life" contest, which encourages people to finish projects that they've put on the backburner throughout the years. Head to www.COMBOS.com and in 10-100 words, describe a project you have always wanted to do and how $5,000 will help you do it. The contest is running from September 14 to October 31 and the grand prize is the $5,000 to help you cross that project off your to-do list.
We were fortunate to have the opportunity to sit down with Junior to talk about the contest, how he got involved and what project he's currently had on the backburner. We also couldn't let him get off the phone without answering some football related questions, which he was more than happy to do. He filled us in on which running back was the toughest to tackle, what current player he would pay the price of admission to watch play every week and what its like to play in Bill Belichick's defensive scheme.
Junior Seau: Anthony!
The Scores Report: Hey Junior, how are you, man?
JS: What's happening, brother?
TSR: We really appreciate your sitting down and talking with us today – it's an honor.
JS: No worries, no worries – let's do it.
TSR: Talk to me about this Combos "Tackle Life" contest that you're partaking in.
JS: Yeah, we're pairing up with Combos' "Tackle Life" contest and what we're doing is trying to encourage everyone to get all of those daily duties out of the way. Pick one, visit Combos.com and submit 10 to 100 words on this dream project, which could be anything. It could be building a deck, or painting your house, or building a shed. Whatever it may be that you've been putting on the backburner, we're asking you to write about it and you have a chance to win $5,000 through this program "Tackle Life."