Junior Seau chats with The Scores Report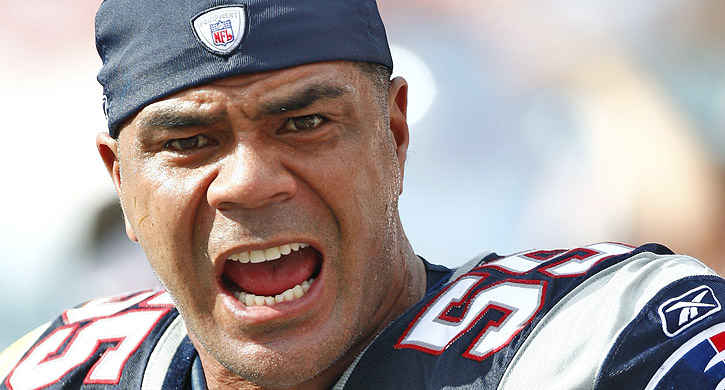 What more can you say about Junior Seau that you can't by listing his accomplishments? In his 19-year career, Seau was a seven-time first-team All-Pro, a 12-time Pro Bowler, the 1992 NEA NFL Defensive Player of the Year, and the 1992 UPI AFC Defensive Player of the Year. He's amassed 1,826 tackles, 56.5 sacks and 18 interceptions over his career. He was also part of two Super Bowls, including the 16-0 New England Patriots squad.
Recently, Junior teamed up with Combos to help them roll out their "Tackle Life" contest, which encourages people to finish projects that they've put on the backburner throughout the years. Head to www.COMBOS.com and in 10-100 words, describe a project you have always wanted to do and how $5,000 will help you do it. The contest is running from September 14 to October 31 and the grand prize is the $5,000 to help you cross that project off your to-do list.
We were fortunate to have the opportunity to sit down with Junior to talk about the contest, how he got involved and what project he's currently had on the backburner. We also couldn't let him get off the phone without answering some football related questions, which he was more than happy to do. He filled us in on which running back was the toughest to tackle, what current player he would pay the price of admission to watch play every week and what its like to play in Bill Belichick's defensive scheme.
Junior Seau: Anthony!
The Scores Report: Hey Junior, how are you, man?
JS: What's happening, brother?
TSR: We really appreciate your sitting down and talking with us today – it's an honor.
JS: No worries, no worries – let's do it.
TSR: Talk to me about this Combos "Tackle Life" contest that you're partaking in.
JS: Yeah, we're pairing up with Combos' "Tackle Life" contest and what we're doing is trying to encourage everyone to get all of those daily duties out of the way. Pick one, visit Combos.com and submit 10 to 100 words on this dream project, which could be anything. It could be building a deck, or painting your house, or building a shed. Whatever it may be that you've been putting on the backburner, we're asking you to write about it and you have a chance to win $5,000 through this program "Tackle Life."
TSR: And how did you get involved in a program like this?
JS: I was called up by Combos and was encouraged that they were putting together something to get people active. And you know, I know a lot about tackling since that's something I've been doing for 19 years and it just all fits.
TSR: (Laughs) Definitely! Have you gotten to read anyone's entries yet?
JS: No I haven't seen any yet, but we're starting it now and it runs to October 31. We're excited about this "Tackle Life" contest with Combos and it's something we're going to build.
TSR: This sounds like a fun concept. Do you like getting involved in contests and programs like this now that your playing career is wrapping up?
JS: Anytime I can get someone to be active and proactive, I want to be a part of that. I'm very active myself and I'm always ambitious to get things done around my life. There are things that I put on the backburner too, so this all fits well.
TSR: All right, then what's the one thing that you would write about if you were entering the Combos "Tackle Life" contest?
JS: I would write about building a surf rack.
TSR: A surf rack? Yeah?
JS: I have like 10 surfboards on the ground in my garage. They're just sitting there on the floor and I need to put them up and I haven't done that yet.
TSR: (Laughs) That would be your winning entry, right?
JS: (Laughs) Yeah!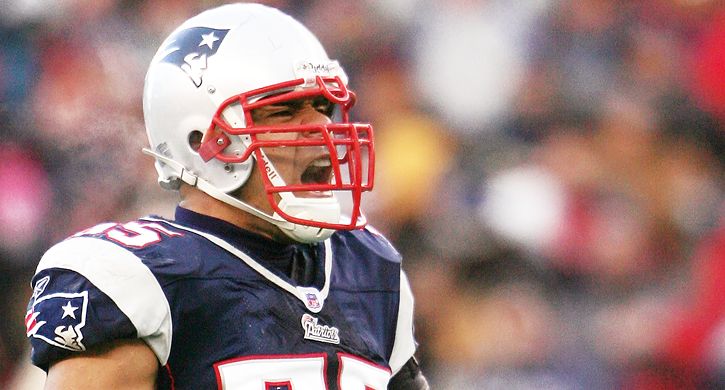 TSR: Do you mind if I ask you a couple football questions?
JS: Shoot, buddy – yeah!
TSR: This could be hard to answer since you played 19 seasons, but what was the greatest lick that you've ever laid on a ballcarrier?
JS: The hardest hit I've ever experienced was the hit I put on Bo Jackson. And I think I got the worst of it.
TSR: Really?!
JS: (Laughs) Yeah.
TSR: (Laughs) I can only imagine how tough he was to take down.
JS: Yeah, he was a beast. If he didn't have his injury who knows what he would have been able to do.
TSR: Who's the toughest player you've ever faced?
JS: Well, the toughest guy I've ever had to tackle was a guy by the name of Barry Sanders.
TSR: (Laughs) I think I may have heard of him.
JS: Yeah, that was a little guy that ran with so much power and with so much leverage, and it was tough to get into him. He had quick feet, he had a lot of talent – a lot of skills and it was all in one. He's only like 5'3" so you can only imagine where he can hide.
TSR: You played in the AFC West for all those years and had to face guys like Christian Okoye of the Chiefs and Bo Jackson of the Raiders. You faced some really tough running backs in that division – who was the toughest to bring down? Was it Bo?
JS: Uh, it would be Bo. Bo and Marcus Allen.
TSR: Yeah?
JS: Marcus Allen was so smart. You never got a good lick on Marcus Allen. He played receiver, he played fullback, he played running back and he could have played quarterback he was so talented. And he was a fellow Trojan, so I've got to give him love.
TSR: You played 19 years in the NFL, went to 12 Pro Bowls and two Super Bowls. Can you pinpoint one moment in your career as the most memorable?
JS: It would be this past December when I got a call from Belichick to come and join the team with the Pats for the remainder of the season and hopefully through the playoffs. That call was probably the most memorable because I didn't go through training camp – no mini camps, no season. I got a call on Thursday and played on Sunday and that was exciting.
TSR: That must have spoke volumes to you that a head coach like Bill Belichick would call you to play knowing that you hadn't gone through any type of camp or practice.
JS: Yeah, that was definitely one of the biggest compliments that he could have ever given me.
TSR: Who's the one player that you would pay the price admission to watch every Sunday?
JS: Tom Brady.
TSR: Oh yeah?
JS: Tom Brady, yeah. I had the best seat for three years watching him play.
TSR: I bet, yeah. What was it like being on the same sideline with him and watching him play in games and practices?
JS: It's just the little things that he does off the field. Playing in the games, everyone sees that. But his preparation and his attention to detail are second to none – it really is. To be able to watch a guy take his trade and really hone it, maximize it and capitalize on everything that comes with it is very encouraging.
TSR: What's it like playing for a defensive-minded genius like Belichick? Is his scheme different from other defenses that you played in or is it just about doing the little things right?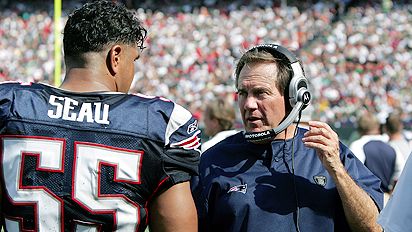 JS: Well, we did a lot of little things but the most important thing is that we have a mastermind in Bill Belichick that can change a game plan in a day. So you have to be on your toes because you never know what he's going to be asking for. He expects everyone to understand number one, but also to make sure that they know their role. When you play with Belichick you just have to play your role and that's all you need to do because he'll do the rest.
TSR: What do you think of the Pats' young linebacker Jerod Mayo?
JS: Mayo is a great player. He has great upside and hopefully he won't be injury-prone so that he can reach his full potential.
TSR: Tell me a moment from one of the Super Bowls that stands out the most?
JS: Uh, well, we lost both of them.
TSR: I know it's a tough one to answer, but I'm sure there was a great moment in there somewhere!
JS: You know, just the whole experience. The whole week of preparation, knowing that there are just two teams left and playing with the guys you have a lot of love for. It was exciting.
TSR: What was it like playing on a team that went undefeated? You played on one of only two teams that have ever gone undefeated, so what was it like playing every week knowing that you could potentially going 16-0?
JS: We looked at it as one day at a time. I know that sounds like a cliché, but we basically took it one day at a time and one game at a time. It just turned out that we were able to put 16 together and we had runs where it looked dim and it wasn't going to happen, but we hung in there and we persevered and we did it. It was exciting – it was fun.
TSR: And now that your playing career is winding down, what's the one thing that you'll miss the most?
JS: I'm not going to miss much because I think I've done so much in 19 years and I've really enjoyed it and I'm about ready to turn the page. But if there was one thing that I loved was basically the locker room comradery. And you know, the lives, and the people, and the different lifestyles, and the different cultures in which you come to play with and come to work with. You have to realize that we have 53 different cultures and different mentalities and different personnel. And we have to find a way in two months to put it all together when we're all fighting for the same purpose, and that was exciting.
TSR: And what's next for you, Junior? I know that you're involved in the Combos contest; what other projects are you looking forward to getting into?
JS: There are a lot of things on the table now. Obviously I'm grouped up with Combos for the "Tackle Life" contest. I have a show coming out…just taking care of the business side of it. Packing coolers, cutting oranges for my daughter's volleyball games and my son's football games, enjoying that. Really, just taking it one day at a time and enjoying the fruits of the labor of a 19-year career.
TSR: Is coaching in your future?
JS: Uh, I think I'm going to surf. In coaching, there's a lot of time you have to put in. But I would never rule anything out.
TSR: What about becoming an analyst?
JS: That's another thing on the table, you know, analyzing the game that I love and giving some insights to what's going on behind the scenes – and giving some kind of wisdom and knowledge. Don't look at me doing anything in the next month or two though.
TSR: Give me your best analysis of your alma mater, USC.
JS: USC…it's definitely a great program led by Pete Carroll, and I'm looking forward to big things this year.
TSR: Do you like their young quarterback Matt Barkley?
JS: I like him as long as he wins.
TSR: (Laughs) Fair enough! Is there a defensive player you like watching on USC right now?
JS: You know, I like the team – they're more of a team than just individuals right now. Not that they were individuals, but for the most part, you're looking at a USC defense that is playing as a team and as a group.
TSR: Junior, is there anything else you want to say about the Combos contest? Where can we go sign up to participate?
JS: Yeah, visit www.Combos.com and put some words down to describe your dream project. We want to help you. We have $5,000 to give to the grand prize winner and it's basically encouraging people to get off the couch, to get active and to get those things done that have been on the back burner for so long.
TSR: Mr. Seau, I can't thank you enough for spending some time with us today.
JS: You got it, buddy!
TSR: Thank you.