Teague leads Demon Deacons past Tar Heels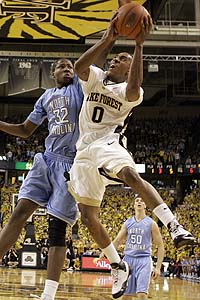 Everyone, meet Jeff Teague…
He's a 6'2″ sophomore combo guard from Indiana who is averaging 20.6 points and 4.1 assists per game. Last night, in a marquee matchup with UNC's Ty Lawson, Teague posted 34 points and four dimes to help #4-ranked Wake Forest pull out a 92-89 win over the #3-ranked Tar Heels. Teague completely outplayed Lawson — nine points, five assists, six rebounds — which makes one wonder why Lawson is projected to go in the mid-first round of the NBA Draft while Teague isn't even on NBADraft.net's draft board. Wait, there he is at #14…hmm…he wasn't there last night when I checked. Does that mean, according to NBADraft.net, that Teague's performance against North Carolina raised his stock from undrafted free agent to borderline lottery? It would appear so. (For the draft geeks, here is DraftExpress.com's profile for Teague. They aptly compare him to Aaron Brooks and Louis Williams.)
Danny Green led the Tar Heels with 22 points, hitting 3 of 4 of his three-point shots. Tyler Hansbrough finished with 17 points, but only shot 3 of 12 from the field. The Demon Deacons' big men did a nice job of keeping him from catching the ball in the post.
Wake Forest is a team to be reckoned with in the ACC. In addition to Teague, they have Al-Farouq Aminu (a 6'9″ lottery prospect) and James Johnson, who are both projected to go in the first round of the NBA Draft. Seven-footer Chas McFarland (who posted 20 points and nine boards last night) anchors the middle.
Wake Forest has a pair of tough road games coming up against Boston College and Clemson before coming home to host Virginia Tech and Duke.