2009 NHL Preview: Calgary Flames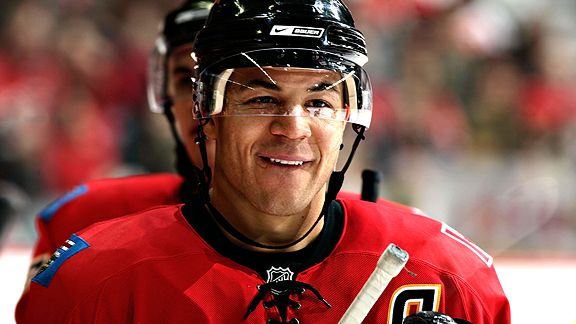 We've partnered with On Goal Analysis to bring you a team-by-team preview of the upcoming NHL season. (Just scroll down on the OGA website and hit the calendar.) Here is the preview for the Calgary Flames…
SUMMER SPLASH
* Brent Sutter was named new coach in June.
* Hoping to both sure up the defense (a top priority for the new coach) and improve on the Power Play (the Flames finished 21st last season), the Flames made big news with the off-season addition of Jay Bouwmeester.
* Flames' second overall scoring leader Michael Cammalleri signed with Montreal creating a vacancy in the 'netting goals' department. Will Olli Jokinen (obtained at last season's trade deadline) allow Calgary to bypass 'replacing' Cammalleri? Time will tell, but Jokinen seemed to be a good fit in Calgary at the conclusion of the regular season and in the six playoff games against Chicago.
* Jordan (Easy Come, Easy Go) Leopold is gone (again) as part of the Bouwmeester deal but the Flames brought back the feisty fan favorite, Brandon Prust.
* Adrian Aucoin signed with Phoenix and Big Todd the Bertuzzi is moving to Detroit.
Interesting Flames Factoid: Calgary has lost each of its season openers in the previous four seasons. Now, if I were a betting man….
Click here to read the rest of the preview (which includes the site's unique Playoff Qualifying Curve and fantasy information) at the On Goal Analysis site.