Jerome Bettis chats with The Scores Report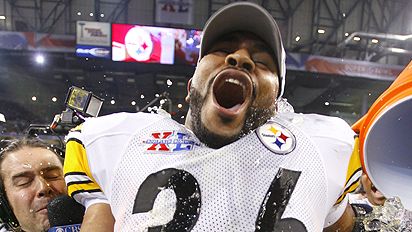 Ask any defender that has tried to tackle Jerome Bettis and we're sure each and every one of them has their own horrifying tale. The 250-pound running back rushed for 13,662 yards and 94 touchdowns in his successful career, while also racking up six Pro Bowl appearances and claiming the 1993 NFL Offensive Rookie of the Year, the 1996 NFL Comeback Player of the Year and the 2001 Walter Payton Man of the Year awards. Did we mention he also won a Super Bowl?
"The Bus" has teamed up with DiGiorno for their "You Bettis Believe" sweepstakes, which runs through February 12th and will award one lucky winner (along with 10 of his or her friends) a chance to win a fantasy football draft party hosted by DiGiorno and Jerome. The winner and his group will be heading to Las Vegas in August for the draft and of course, the chance to meet Jerome Bettis. All you have to do to sign up is visit Facebook.com/Digiorno for a chance to win.
Along with providing more details on the "You Bettis Believe" sweepstakes, Jerome was more than happy to talk a little football with us. We asked him what his most memorable moment was from the Steelers' run to the Super Bowl in 2005, what was the hardest hit he ever laid on a defender and what he thinks it'll take for the Steelers to get back in title contention. He also filled us in on where Bill Cowher may wind up when he decides to start coaching again.
The Scores Report: Hey Jerome, how are you this is Anthony.
Jerome Bettis: How you doing, Anthony?
TSR: Real good, I appreciate your joining me today.
JB: Oh, not a problem.
TSR: Talk to me a little bit about this DiGiorno's sweepstakes that you're a part of. This fantasy football draft in Vegas sounds like a great time.
JB: The sweepstakes is called "You Bettis Believe" and all you have to do is go to Facebook.com/DiGiorno and register to win the fantasy football draft party in Las Vegas. You get the opportunity to go out to Vegas and have a fantasy football draft with me. We'll talk football, pizza; it's the best sweepstakes you could ever win. The 12th of February is the last day you can enter so make sure you go to Facebook.com/DiGiorno to sign up.