Warning signs were there about Crabtree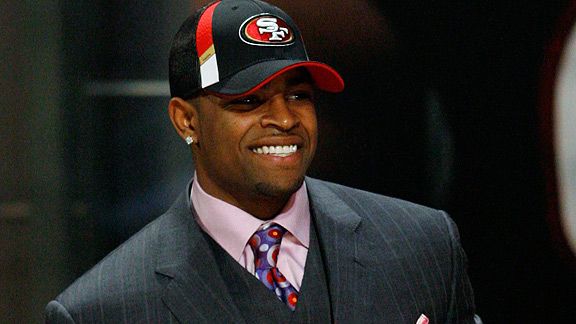 In an article written by Charles Robinson of Yahoo! Sports, several unnamed NFL front office people said that there were warning signs before the draft that receiver Michael Crabtree was going to be a problem to sign.
He wasn't alone in that cynicism. While public and media sentiment have been overwhelmingly against Crabtree and Parker, all seven executives agreed the impasse marks a significant failure by the 49ers, too. While second-guessing is easy in hindsight, it didn't stop some from suggesting that they saw a nasty impasse coming as soon as Crabtree slipped out of the top five and then had Oakland's Darrius Heyward-Bey(notes) selected in front of him at No. 7 – particularly considering Crabtree was represented by Parker, who has a history of holdouts with draft picks.

"[Crabtree] didn't even work out for teams, and he still had it in his mind that he was the best player in the draft," the NFC North executive said. "People were in his ear telling him that from jump street. Honestly, I thought it could have been a problem if Seattle would have taken him [at No. 4]. Then they would have been asking for No. 1 money."

Added an NFC general manager: "He was represented by Eugene Parker. That was kind of a giveaway right there."
There was a report that surfaced before the draft that Eric Mangini of the Browns was so turned off by Crabtree's attitude during a pre-draft visit that the Cleveland head coach said that he wouldn't select the Texas Tech product at No. 5. So obviously there's a lot of truth behind the notion that the 49ers should have known that Crabtree was going to be a problem.
That said, what where they supposed to do? Nobody is arguing Crabtree's athletic ability; he was a top 5 talent that slipped to No. 10 and San Fran had a major need for a receiver. Even if they did think he would holdout, I doubt they believed it would go into the season like it has.
So yeah, there were warning signs. But I still don't blame the 49ers for taking a shot on a dynamic playmaker that fell into their laps at No. 10. If they can get a deal worked out, then Mike Singletary can get his hands on Crabtree and hopefully straighten out his attitude. Of course, that's a big "if" in terms of getting him signed.