49ers reach out to Michael Crabtree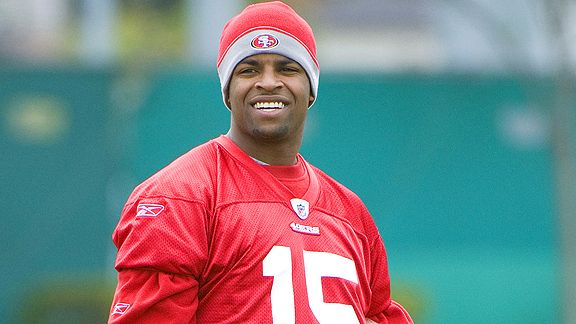 According to the Santa Rosa Press Democrat, 49ers co-owner Jed York has offered to meet with first round pick Michael Crabtree (who skipped all of training game and has yet to practice with the team due to a contract holdout) in hopes to come to a resolution.
Take this as a good sign that York is putting pressure on Crabtree's camp to talk. After all, negotiations and dialogue have been non-existent for most of the 50 days of this contract impasse.

The 49ers want Crabtree on the team. Whether they had him rated as the top player on their board or not, there is no denying that Crabtree was not chosen within the first nine picks of the draft.

When the NFL puts together its rookie salary pool – the cap within the cap that places some broad limits what teams can spend on its rookie class – the dollar amount is derived from where each team selects.

Each draft pick is assigned a figure based on where the selection was made. Each pick is assigned a dollar amount less than the previous slot. That, in itself, does not guarantee a slotting system that teams and players much follow, but it is certainly a guideline that has been the standard for as long as anyone can remember.
The 49ers have been more than fair to Crabtree. They've offered to pay him market value and he's refused. They shouldn't have to pay Crabtree like he's a top 5 pick when he was selected 10th overall because if they do, then their next draft pick will think he can get away with the same thing.
Every game that Crabtree misses is just another week where he becomes less valuable to the 49ers. He and his clueless agent are playing a very dangerous game with his career.