The implosion of Dustin Johnson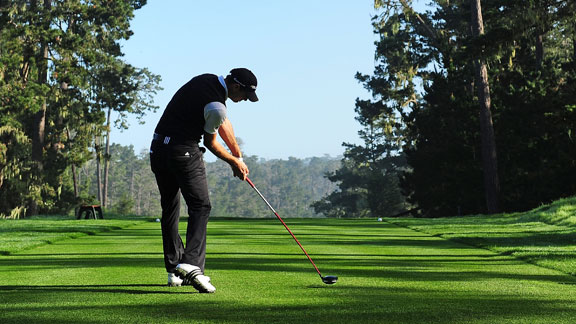 When Dustin Johnson rested his head on his pillow Saturday night, he had a three-stroke lead over Graeme McDowell heading into the fourth and final round at the U.S. Open.
When he went to rest his head on his pillow last night, he wanted to punt it off the roof of his home, along with his golf clubs, his golf shoes and maybe even his caddy. That's because Johnson completely imploded during the final round on Sunday, giving way for his playing partner McDowell to earn his first professional win in the United States. McDowell also became the first European to win the U.S. Open since England's Tony Jacklin won at Hazeltine in 1970.
But back to Johnson. He dominated Pebble Beach on Saturday while shooting a 5-under par. He converted a par-4 on the 4th hole when he hit the green with an iron off the tee, then buried an eagle putt. He also birdied the 6th, 7th, 11th, 17th and 18th holes to take a three-stoke lead heading into the final round.
Then he woke up on Sunday and completely forgot how to play. He kicked things off with a triple-bogey and double-bogey on the 2nd and 3rd holes. By the time he reached the back nine, he had completely fallen off the leaderboard and wound up shooting an 82.
Granted, I would set a course on fire and tip over golf carts for an 82. But for a professional golfer, an 82 is a day to forget. In fact, this was one of the greatest collapses in major championship history, akin to Greg Norman's disastrous performance in the 1996 Masters when he shot a 78 to erase a 6-shot lead. Even the announcers couldn't believe how poorly Johnson was playing.
Nevertheless, give credit to McDowell for not imploding himself and taking advantage of Johnson's demise. Unfortunately for McDowell, people might remember Johnson's epic collapse more than they remember the day the 30-year-old from Northern Ireland become the first European in 40 years to capture America's national championship.
Tiger Woods surging ahead at U.S. Open
After shooting a 5-under par in the third round at Pebble Beach on Saturday, suddenly Tiger Woods is right back in contention at the U.S. Open. He'll head into Sunday's final day in third place on the leaderboard.
From ESPN.com:
After bogeys on the second and third holes, he ran off birdies on the next three and made the turn in even par. Birdies on the 11th and 13th holes got him closer to the conversation, and the final three holes set off a series of cheers that could be heard from all corners of the peninsula.

He rolled in a 12-foot birdie from the 16th, then made the downhill 15-footer from the fringe of the 17th, raising his index finger in the air.

The old Tiger showed up on the 18th hole.

Blocked behind a pair of cypress trees and hitting into an ocean breeze, Woods hit a 3-wood toward the Pacific and urged it on toward the green. "C'mon! C'mon!" he screamed at it, and followed that with a "Yes!" when it stopped in easy two-putt birdie range.

"I was hitting shots like this every now and again," Woods said. "I would get into two-, three-hole stretches, but I haven't strung it out for more than that. And today, I did."
It was certainly vintage Tiger on Saturday, although keep in mind that he has never won any of his 14 majors when he wasn't at least tied for the lead going into the final round. That said, the power fade from behind the tree on 18 might turn out to be the shot that propels him to a victory this weekend.
Even if he doesn't come back and win, it was an epic performance by Woods on Saturday.

Photo from fOTOGLIF