Cliff Lee shuts out Dodgers, Kuroda gets rocked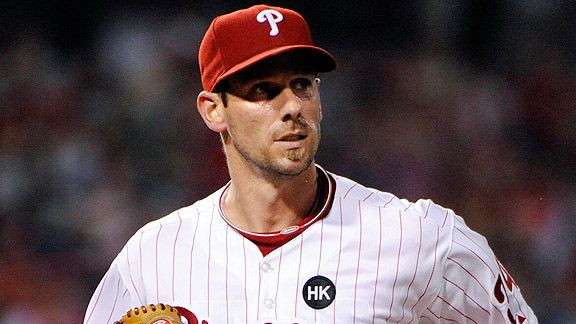 Hiroki Kuroda hadn't pitched since Sept. 28 because of a bulging disk in his neck. Doctors said this problem may have been caused by the line drive he took to the skull in August. Despite the concussion, Kuroda still came back in September, but was mediocre. Now your team is in the National League Championship Series, tied at a game a piece. Are you going to throw Kuroda, simply because he was dominant against the Phillies last year? Hell no.
Joe Torre is going to take the brunt of the blame for this one. Knowing Kuroda was a question mark at best, Torre chose to drop starter Jon Garland and long reliever Jeff Weaver from the NLCS roster. Torre said he went with Scott Elbert because the Phillies have so many lefties in their lineup. Still, why pitch Kuroda, a right-hander? Given how crucial this game was, wouldn't you throw Randy Wolf, a left-handed pitcher who's familiar with Citizens Bank Park? Kuroda was absolutely awful, giving up six hits and six runs in one and a third innings. The Phillies immediately jumped over Kuroda as he gave up four consecutive hits to Shane Victorino, Chase Utley, Ryan Howard, and Jayson Werth. By the end of the first inning, the Phillies had scored four runs off of Howard's triple and Werth's solo shot.
Scott Elbert soon took over, but didn't have any command. Enter Chad Billingsley, the former Dodger ace who was removed from the starting rotation before the postseason began. Billingsley was better than expected, but still allowed two runs in three and a third. If the Dodgers can somehow force a Game 7, Billingsley could get the call.
While the Phillies' bats were hot throughout the night, the Dodgers might as well have hit with chopsticks. Cliff Lee was simply phenomenal. Over eight innings of work, Lee struck out 10, holding the Dodgers to three hits and zero runs.
The Dodgers were the best hitting team during the regular season, so what happened tonight? Manny Ramirez did come up with two of the Dodgers' three hits but, as we learned during his fifty-game suspension, he is not the team. A solid rotation is the most vital part to a club's postseason success. At this point, the Dodgers don't have one. Vicente Padilla is shaking his head.
Pedro Martinez, CC Sabathia, A.J. Burnett, and Cliff Lee have all been dominant in the League Championship Series. Which teams do they play for again?