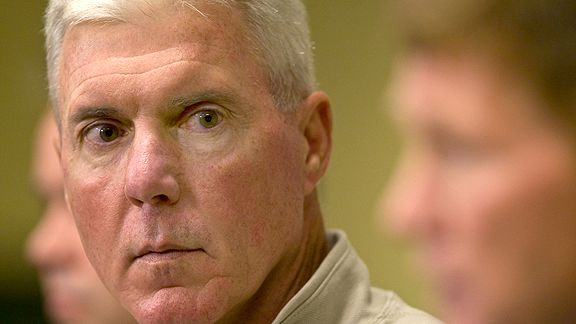 With the Green Bay Packers getting ready to face the Bears in the NFC Championship Game this weekend, it's a good time to stop and reflect on a franchise that was in a serious state of flux as recently as two-and-a-half years ago, when Aaron Rodgers took the reins from Brett Favre.
Ted Thompson is the man who made that call (and countless others) over the past six years, so he's ultimately responsible for the Packer roster as it stands. A roster that is playing very good football and has enough depth to withstand 15 players on injured reserve, including starters Jermichael Finley, Nick Barnett, Ryan Grant, Brandon Chillar and Mark Tauscher.
Let's go year-by-year and look at each draft, along with any major transaction that Thompson made.
2005
Thompson took over in January of 2005, with the Packers coming off a 10-6 season and a first round loss to the Vikings at Lambeau Field. Mike Sherman was stripped of his personnel duties, and Thompson was brought in to call the shots.
The 2005 season was a rough one. The Packers went 4-12. Favre tossed 29 interceptions and the Packers were 31st in turnover ratio. It was an excruciating season as Green Bay was just 1-5 in games decided by three points or less. Part of the problem was Thompson's unwillingness to pay free agent (and Pro Bowl) guards Marco Rivera and Mike Wahle. The O-line struggled, and so did the Packers.
Here's a look at that Thompson's '05 draft: (1) Aaron Rodgers, (2) Nick Collins, (2) Terrence Murphy, (4) Marviel Underwood, (4) Brady Poppinga, (5) Junius Coston, (5) Mike Hawkins, (6) Michael Montgomery, (6) Craig Bragg, (7) Kurt Campbell, (7) Will Whitticker
Note: Players in bold are starters. Players no longer with the team are in italics.
Of the 11 players selected in that draft, just three remain. But they're three good ones. Collins was named to his third consecutive Pro Bowl this season and if Rodgers isn't a top 5 QB, he will be soon. He also landed a starter-caliber LB (Poppinga) in the fourth. Thompson knew that he had to be patient with Rodgers, especially with Favre still on the roster and capable of MVP-type numbers. He passed on a player that could help immediately in order to draft the QB of the future, and he took some grief for it.
Obviously it worked out for the best.
2006
The key acquisition in 2006 was Charles Woodson, whom Thompson signed to a seven-year deal. It was a risky move because some were critical of Woodson's play in Oakland, but the usually frugal Thompson saw the 30-year-old as a shutdown corner still capable of Pro Bowl-caliber play. Woodson had been named to four Pro Bowls while in Oakland, but he broke his leg during the '05 season, which is why he was available in '06. Woodson has made three Pro Bowls with the Packers ('08, '09 and '10) and was named Defensive Player of the Year in 2009.
After the season, Thompson also hired Mike McCarthy to replace Mike Sherman. McCarthy has had some ups and downs in Green Bay, but the mark of a good coach is how the team improves over the course of the year, and McCarthy always seems to have his Packers playing their best football late in the season.
Here's a look at the '06 draft: (1) A.J. Hawk, (2) Daryn Colledge, (2) Greg Jennings, (3) Abdul Hodge, (3) Jason Spitz, (3) Dominique Byrd, (4) Cory Rodgers, (4) Will Blackmon, (5) Ingle Martin, (5) Tony Moll, (6) Johnny Jolly, (6) Tyrone Culver, (7) Dave Tollefson
Hawk didn't live up to his draft pick (#5 overall), but he's a solid starter. The same goes for Colledge, who filled the hole at left guard that was left by Wahle. Greg Jennings made his first Pro Bowl this season. Jolly was on his way to being a starter before getting mixed up with drugs. He's now suspended indefinitely.
The Packers went 8-8 in 2006. The offense improved from 18th in total yards in 2005 to 9th in 2006. Favre had a better year (18 TDs, 18 INTs), but still wasn't playing up to snuff. There was some talk that he should retire, but Thompson and McCarthy stuck with him even though he was starting to waver.
During the '06 season, Thompson signed street free agent Tramon Williams, who some say had a better 2010 than Pro Bowler Charles Woodson. Williams has been a fixture at CB for the Packers over the last two years and had two big interceptions against the Falcons last week.
2007
Here's a look at Thompson's '07 draft: (1) Justin Harrell, (2) Brandon Jackson, (3) James Jones, (3) Aaron Rouse, (4) Allen Barbre, (5) David Clowney, (6) Korey Hall, (6) Desmond Bishop, (6) Mason Crosby, (7) DeShawn Wynn, (7) Clark Harris
This was arguably Thompson's worst draft with the Packers, but he still landed a starting LB in the 6th (Bishop), who just signed a long-term deal to stay in Green Bay. James Jones would be a starter on most teams and will eventually take over for Donald Driver. Harrell and Jackson have not lived up to their draft positions, but they are still on the Packer roster. Harrell can't stay healthy, but Jackson has played an important role this season with Ryan Grant out for the year. In fairness, none of the RBs drafted after Jackson — Lorenzo Booker, Tony Hunt, Garrett Wolfe — have done much of anything, but fourth rounder Michael Bush would have been a nice pick had Thompson not been able to acquire Grant.
Speaking of Grant, Thompson traded a sixth-round pick for the undrafted free agent, who was a member of the Giants at the time. He rushed for 3,412 yards and 23 TDs over the next three seasons, and was named to the Pro Bowl during the 2009 season.
The Packers went 13-3 in 2007, completing the the job that Thompson was initially hired to do. Green Bay lost to a hot New York Giants team in overtime at Lambeau Field. We didn't know it at the time, but Brett Favre's season-ending interception would be the last pass he'd throw as a Packer. The saga has been covered to death, and if you're interested in my take on Favre's last few years, you can read it here. Needless to say, Thompson made the move to Rodgers and hasn't looked back.
2008
Thompson's '08 draft: (2) Jordy Nelson, (2) Brian Brohm, (2) Patrick Lee, (3) Jermichael Finley, (4) Jeremy Thompson, (4) Josh Sitton, (5) Breno Giacomini, (7) Matt Flynn, (7) Brett Swain
Thompson traded away his first round pick to the Jets for a second (Nelson) and fourth. The latter eventually got traded back to the Jets for Jeremy Thompson. Nelson is a good wideout, but he's buried on the Packer depth chart behind Jennings, Driver and Jones. But that doesn't mean he doesn't contribute. He caught eight passes for 79 yards and a TD against the Falcons last week (along with a 4-124-1 day in a must-win game against the Giants in Week 16), so his importance should not be underestimated. Finley will make the Pro Bowl if he can stay healthy and, in Sitton, Thompson finally found a starting right guard to fill the hole left by Marco Rivera. Matt Flynn filled in for a concussed Rodgers at New England and played well enough that the Packers nearly pulled off the upset. He'll get a shot at a starting job somewhere soon.
The Packers struggled in 2008 to a 6-10 record, and Rodgers unjustifiably took a lot of the blame. But it was the defense that was mostly at fault. The unit went from 11th in total yards in '07 to 20th in '08, largely due to an inability to stop the run and pressure the quarterback. Thompson brought in Dom Capers to fix that side of the ball.
2009
Thompson's '09 draft: (1) B.J. Raji, (1) Clay Matthews, (4) T.J. Lang, (5) Quinn Johnson, (5) Jamon Meredith, (6) Jarius Wynn, (6) Brandon Underwood, (7) Brad Jones
Clearly, Matthews was the steal of the first round and has arguably been the best player from the '09 draft considering he's in the running for 2010 Defensive Player of the Year. Raji has been playing at a Pro Bowl level of late, while Jones was getting some starts prior to getting injured earlier in the year. It's usually tough to grade a draft so quickly, but it's obvious that Thompson hit a home run with Matthews and has found at least one good starter in Raji.
The Packers went 11-5 in 2009, but failed to win the NFC North thanks to the Brett Favre-led Vikings. In the playoffs, Green Bay lost in a shootout in Arizona, and once again the defense let Aaron Rodgers down. However, the unit showed great improvement on the year (finishing #2 in total yards allowed) in Dom Capers' first season as defensive coordinator.
2010
Thompson's 2010 draft: (1) Bryan Bulaga, (2) Mike Neal, (3) Morgan Burnett, (5) Andrew Quarless, (5) Marshall Newhouse, (6) James Starks, (7) C.J. Wilson
Again, it's hard to judge a draft this soon, but Bulaga has been a fixture at right tackle after Mark Tauscher went down and won't be giving the job up anytime soon. Quarless has been serviceable after being pressed into duty due to Jermichael Finley's injury. James Starks looks like he might be the team's RB of the future with 189 rushing yards in his first two playoff games.
Thompson also signed street free agents Sam Shields and Frank Zombo, who have both played a lot (and have played well) with all the injuries to the Packers' defense. Zombo is out right now with a knee injury, and has been replaced by another street free agent, Erik Walden, but Shields has been playing a great deal opposite Tramon Williams, which has allowed Woodson to play the slot and blitz the QB from time to time.
To sum it up, Thompson has done an incredible job putting this roster together. He won The Sporting News' Executive of the Year award in 2007 and in my estimation should win it again this season given the Packers' ability to overcome a laundry list of injuries on both sides of the ball. His choices for head coach and defensive coordinator have worked out very well and he obviously answered the Brett Favre/Aaron Rodgers question correctly even when there was a lot of pressure to stick with #4.
The Packers could very well go out and lose to the Bears on Sunday, but it's a minor miracle that they're even in this position given all that has happened to the franchise over the past three-plus seasons. Assuming there aren't any catastrophic injuries to any of the Green Bay stars, the Packers should go into 2011 as the consensus favorite to win the NFC.