WEC 48: Aldo vs. Faber Picks and Predictions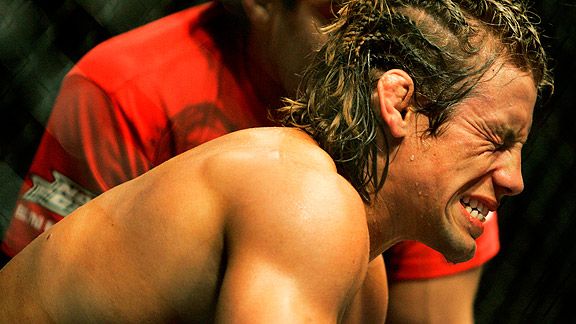 World Extreme Cagefighting breaks into the Pay-Per View market on Saturday for WEC 48: Aldo vs. Faber, presented by AMP Energy, from the Arco Arena in Sacramento, California.
The main card features five fights, including two title bouts. Here is a look at each fight and my expected outcomes.
WEC Featherweight Champion Jose Aldo (16-1) vs. Urijah Faber (23-3): This fight is a big one. Not just for the WEC, but for MMA as a whole. Aldo is the young phenom at 24, who has dominated his opponents in a quick and explosive fashion. Faber is the former champion who was considered an unstoppable phenom years ago. Now, at 30, a loss for Faber could change the entire outlook on his career. He will have the bonus of fighting in his hometown, but that won't matter in the cage. Look for this fight to be explosive but for Faber to utilize his strength and wrestling to get the fight to his advantage. If Faber can survive the opening explosion from Aldo, the fight is his. I suspect Faber will survive and earn a submission win in the fourth round.
WEC Lightweight Champion Ben Henderson (11-1) vs. Donald Cerrone (11-2, 1 No Contest: This is a rematch of a classic fight less than a year ago. These two are both tremendous grapplers and leave it all in the cage. While it would be hard to imagine the two living up the first five-round war, this fight should be a tremendous scrap. Look for Cerrone to have improved his game plan more from the first fight than Henderson and earn his way to a decision win to secure the championship.
WEC Featherweight Bout – Mike Brown (23-5) vs. Manny Gamburyan (12-5): This fight plays well into Brown's hands as Manny's strengths are also Brown's strengths. Brown is the bigger, stronger fighter of the two. Gamburyan will have to win the fight on his feet, but that won't happen with Brown, who will simply use his size to get Gamburyan to the ground. Look for Brown to win by decision or third round TKO from ground and pound.
WEC Lightweight Bout – Anthony Njokuani (13-2) vs. Shane Roller (7-2): Njoukuani is making his way up the ladder as he has won his last three fights by TKO. His length is his biggest strength and will be what causes problems for Roller. Roller has won his last two fights, but not in as impressive fashion. He has the wrestling edge, and he will need to get the fight to the ground, but to do so, he will have to eat a knee or a leg from Njokuani. With that said, that knee or leg should be enough to rock Roller and allow Njokuani to get the first round TKO win.
WEC Bantamweight Bout – Antonio Banuelos (18-5) vs. Scott Jorgensen (9-3): This is also a rematch of a close fight from last June that Banuelos won by split decision. This is a fight of two good wrestlers, so the fighter that exhibits better striking will have the edge. Jorgensen looks to be determined to erase this loss, and I suspect he will avenge it by earning a decision win thanks to superior stand up.
The Scores Report and Bullz-Eye.com will be providing live updates of tonight's fights on Twitter @bullzeyedotcom. Thanks to AMP Energy for their efforts to make Bullz-eye part of WEC 48.
Posted in: Mixed Martial Arts, UFC
Tags: AMP Energy, Anthony Njokuani, Antonio Banuelos, Ben Henderson, Donald Cerrone, Jose Aldo, Manny Gamburyan, Mike Brown, Scott Jorgensen, Shane Roller, Urijah Faber, WEC 48: Aldo vs. Faber, WEC Featherweight Championship, WEC Lightweight Championship, WEC World Extreme Cagefighting