The good, bad and the ugly of the Bears signing Julius Peppers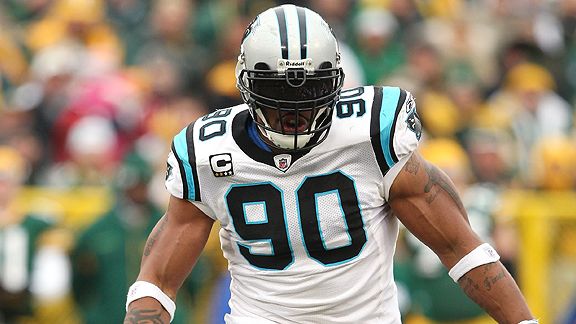 If you're a Chicago Bear fan, you're probably going through a wave of emotions right now after learning that your team just signed free agent Julius Peppers to a six-year deal. So allow me to play NFL physiologist for a moment and break down what the signing could mean for the Bears.
The Good:
Peppers is a freak – a true athletic marvel. He's averaged over 10 sacks a year in his eight-year career and racked up 25 QB takedowns in his past two seasons. Without question, the Bears needed to fill a massive void along their defensive line by adding a premier pass rusher, which they did by signing Peppers. He's someone whose mere presence alone will make his teammates (Tommie Harris anyone?) better around him, by freeing them up to make plays. He was the crown jewel of the 2010 free agency period and he gives hope to a fan base that has been utterly dejected after the Bears crashed and burned in 2009 despite having high expectations following the Jay Cutler trade. Along with the deal for Cutler, the Peppers' signing might also signal a new era for the Bears, one in which a once cheap organization will become more aggressive when it comes to acquiring new players.
The Bad:
There's a strong possibility that Peppers won't see the end of this contract. He's already 30 and even though he's an athletic monster, there are only a handful of defenders that are extremely productive well into their 30s. Even though they had to outbid the Eagles, Patriots and Daniel Snyder's Redskins, $40 million is a lot of dough to pay an aging defender for the next three years.
The Ugly:
If you're a Bears fan and you read the previous two paragraphs, chances are you're still pretty stoked about the signing. But here's where things get worrisome for the Chicago faithful: Peppers' reputation for being lazy is well known. This was the same player that virtually took an entire year off in 2007 when he only registered 2.5 sacks in 14 games. He's been known to take plays off, disappear for entire lengths of games and even run away from the action in order to avoid contact. When the Panthers wanted him to step up over the past couple years and be the leader of their defense, he declined. Last year, he produced 10.5 sacks but none of them came against divisional foes the Saints or the Falcons. His age is also a problem, as defensive ends seem to hit a brick wall at age 32. Twenty-nine defensive ends are in the top 50 for career sacks, averaging 10 sacks at age 30, 9.8 sacks at age 31, but only 7.3 sacks at age 32. Only eight of those 29 reached double digit sacks at 32, and four of those eight were among the best DEs to have ever played (Bruce Smith, Reggie White, Michael Strahan and Chris Doleman). So when it's all said and done, the Bears might essentially be paying Peppers a three-year, $40 million contract in terms of production. That's over $13 million a year, which is an awfully lot of money.
My final paragraph isn't intended to kill the excitement for Bear fans. Peppers can be a game-changer that opposing offenses have to account for every down and his numbers speak for themselves outside of the '07 season. It also has to be thrilling for fans to see their team finally spending money, seeing as how it's been a long time since the Bears opened their wallets.
That said, Peppers probably won't be worth the money in the end. If this were a player that could be counted on to play hard each and every week, the money might be justified. I realize the Bears had to overpay (it's just the nature of the beast when it comes to free agency in the NFL), but there's a good possibility that Chicago didn't get much value here and won't get what they paid for.
Still, it's an awfully exciting day for the fine folks in "The Windy City."
Update: Peppers' contract was of the record-setting variety according to ESPN's John Clayton. The official deal was for six years at $91.5 million, with $40 million guaranteed. Wow.
Was this a good signing for the Bears?