2010 Fantasy Baseball Preview: Catchers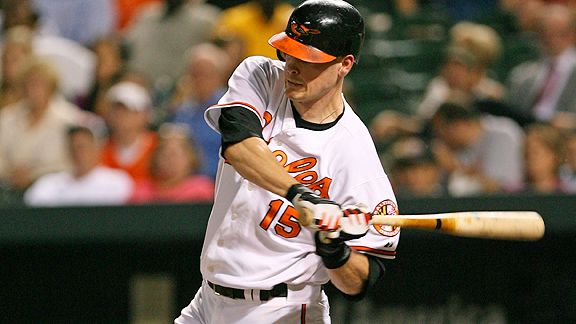 All 2010 Fantasy Articles | 2010 Position Rankings
If you're like most guys, you hate shopping. You'll wait until one of the sleeves is coming off your shirt before you even think about heading to the mall to buy new clothes. And even then, it takes your significant other to say, "Are you seriously going out in public like that?" before you actually turn the keys in the ignition and embark on one of the most annoying days of the year.
Once you've pinpointed where you want to shop, the clearance rack usually calls out to you like that 50-inch plasma at Best Buy. It draws you in and once you've selected six shirts for a grand total of $22.50, you've completed your clothes shopping for the year.
Drafting a catcher in fantasy baseball is sort of like when guys go shopping for clothes. Once you finally come to realization that you need them, shopping in the bargain bin (or the clearance rack, or whatever other analogy you prefer) isn't a bad way to go.
Unless your opponents fall asleep on Joe Mauer and he drops in your draft, nabbing one of these seven catchers is a good way to fill category voids that were created in earlier rounds. By the end of the year, there probably won't be a huge gap between one of these catchers and one of the top 3 (Mauer, Brian McCann and Victor Martinez) that your buddy just had to have. (He's probably the same guy that likes dropping $100 on a new shirt and buys another once the color starts to fade.)
Matt Wieters, Orioles
There's a good chance that you'll miss out on Wieters because there will be someone in your league that has an infatuation with youngsters that have extreme upside and will take him a round or two early. That's okay. But if he does happen to fall, grab him because 2010 might wind up being the 23-year-old's breakout season. After hitting .259 in a little over a month before the All-Star break, Wieters finished his rookie season on a tear while hitting .288 with nine dingers and driving in 43 RBI in 96 games. In September, he hit .362 with three homers and drove in 14 RBI while hitting in the No. 3 spot of Baltimore's improving lineup. Assuming his success at the end of the 2009 season carries over, Wieters is the one player in this group that is worth taking a round before you're ready to select a catcher (assuming he's still available, that is).
Miguel Montero, Diamondbacks
After taking over for the injured Chris Snyder in June, Montero had a breakout year in 2009. He hit .294 with 16 homers and drove in 59 RBI, all while finishing with an OPS of .832. Assuming last year wasn't a fluke, Montero should top those numbers this season in a full-time role. Draft him with confidence in the later rounds.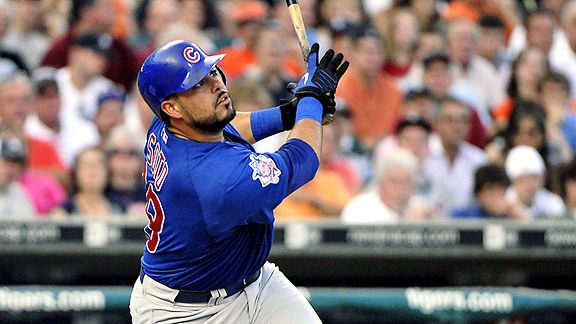 Geovany Soto, Cubs
After he won the NL Rookie of the Year Award in 2008, Soto owners were burned last year when he suffered a bad sophomore slump (.218-11-47). But he dropped 40 pounds over the offseason by whipping himself into shape and is committed to rebounding in 2010. He should also be completely healthy after battling shoulder and oblique injuries last season, which no doubt affected his performance. Considering some people will take a pass on him based on his '09 struggles, Soto could wind up being a late round steal.
Jorge Posada, Yankees
Owners will pass on Posada on draft day because of his age, which is fine. You'll gladly take a starting catcher that should hit around .275 with 20-plus home runs, 80-plus RBI and score 60-plus runs. Granted, you'll want to make sure you take a decent backup to pair with Posada (he won't make it through a full season), but he's still productive and he hits in a stacked lineup. You could do much worse on draft day.
Mike Napoli, Angels
Here's the good: Napoli will probably hit upwards of .270 this season and smack around 20 home runs, which is solid for a catcher that you can selected in the late rounds. Here's the bad: If he doesn't improve his defense, he will lose playing time to Jeff Mathis, who played well in the ALCS last season. Napoli is still the starter, but it would be wise to nab another catcher to pair with him in case Mathis takes over the backstop duties at some point during the year.
Kurt Suzuki, A's
In his second full season behind the dish in Oakland, Suzuki finished with career highs in home runs (15), RBI (88) and runs scored (74), all while hitting a respectable .274. If he finishes with similar numbers in 2010, you would have gotten quality output from your catcher position late in the draft. A bonus with Suzuki is that he could steal 10-plus bases this year given his speed.
Chris Iannetta, Rockies
The Dodgers' Russell Martin and the Pirates' Ryan Doumit could be mentioned here as well, but we'll go with Iannetta based on Martin's poor 2009 campaign and Doumit's ceiling. While it's true that Iannetta will have to beat out free agent addition Miguel Olivo this spring, he's expected to emerge as the clear starter and improve on his .228 batting average and 16-home run season in '09. Iannetta believes that a mechanical adjustment that he made last August will allow him to see the ball better in 2010 and if that's the case, you can expect another 15-plus home run season and a higher batting average this year. If nothing else, Iannetta's home run production should help an owner that failed to address that category in earlier rounds.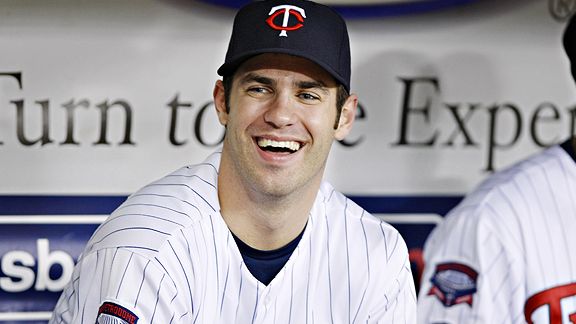 Below is our official ranking of catchers. You'll see that there is plenty of depth after the top 3, including the players ranked after the ones we mentioned above.
1. Joe Mauer, MIN
2. Brian McCann, ATL
3. Victor Martinez, BOS
4. Matt Wieters, BAL
5. Miguel Montero, ARZ
6. Geovany Soto, CHC
7. Jorge Posada, NYY
8. Mike Napoli, LAA
9. Kurt Suzuki, OAK
10. Chris Iannetta, COL
11. Russell Martin, LAD
12. Ryan Doumit, PIT
13. Carlos Ruiz, PHI
14. Bengie Molina, SF
15. A.J. Pierzynski, CHW
16. Yadier Molina, STL
17. Ramon Hernandez, CIN
18. Jarrod Saltalamacchia, TEX
19. John Baker, FLA
20. Carlos Santana, CLE