Bears the front-runners for Peppers?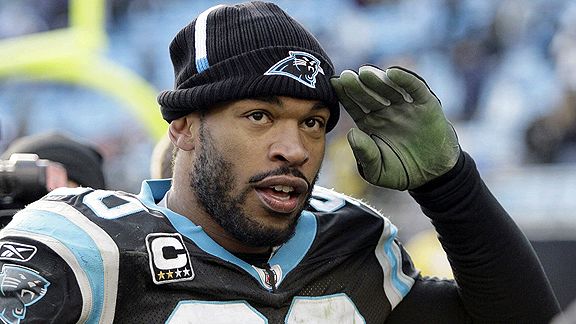 The latest in the daily Julius Peppers-rumor mill is that the Bears could be the front-runners to land the hot ticket free agent.
From ESPN.com:
Well, the Bears didn't make the "Final Eight," and they appear to be one of the front-runners for Peppers, given the fact that they have no picks in the first two rounds to find a new pass-rusher; in other words, any big personnel improvements will have to come from free agency. Bears LB Brian Urlacher seemed very pleased with the possibility of adding Peppers in comments to the Chicago Tribune, and we're not sure how much import will be assigned to his feelings by management, but he is the leader of the defense.
The Bears have always been among the cheapest organizations in the league, although they did pay dearly (both in terms of money and draft picks) to bring Jay Cutler to Chicago last offseason and they might be willing to open their wallets again to nab Peppers.
That said, if history is any indication then GM Jerry Angelo isn't going to spend recklessly, if at all this offseason. Every year the Bears have gapping holes to fill and every year, Angelo does his shopping in the bargain bin. When the Bears needed to bolster their offensive line last season, Angelo signed Orlando Pace and Frank Omiyale on the cheap and he got what he paid for. Now he has to figure out how he's going to address his needs along the O-line without having draft selections in either of the first two rounds.
One player I could see Angelo making a play for, however, is Aaron Kampman. Kampman wasn't a fit in Dom Capers' 3-4 defense in Green Bay last season and he knows the NFC North. He would come cheaper than Peppers and assuming he hasn't lost his ability to rush the passer from a 4-3 end position, he makes sense for the Bears.