2010 BCS Bowl Preview: 5 Things to Watch for in the National Championship Game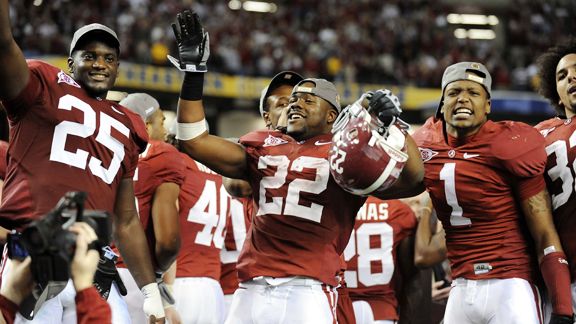 For the first time since the 2006 Rose Bowl, two undefeated teams will square off in the BCS national championship game when No. 1 Alabama takes on No. 2 Texas on January 7. To conclude our 2010 BCS Bowl Preview, here are five things to watch for in the 2010 title game.
1. Can McCoy rebound?
Senior quarterback Colt McCoy hasn't had many bad outings throughout his collegiate career, but Nebraska's defense dominated him in the Big 12 title game. He completed 20 of his 36 pass attempts but it went for only 184 yards and zero touchdowns. He also threw three interceptions as he struggled with his decision-making and his pre-snap reads. It's not a total shock that McCoy had problems moving the ball on the ninth best defense in the nation, but how will he fair against an Alabama D that ranks second in the country? The Crimson Tide have allowed just 11 points per game this season (best in the NCAA) and just 163.77 passing yards per game. There's no doubt 'Bama will study what Nebraska did against McCoy and employ similar tactics to slow him and Texas' offense down. Can the senior QB overcome his poor outing in the Big 12 championship and lead his team to victory or will the Tide defense abuse him just like the Cornhuskers did?
2. The Heisman winner vs. the No. 1 run defense in the nation
One of the marquee matchups of the bowl season will pit Heisman Trophy winner Mark Ingram against the Longhorns' No. 1 run defense. Texas has allowed just 62.15 rushing yards per game this season, while Ingram has averaged 118.62 YPG. At times, Ingram has been the Tide's only offense this season. But what happens if the Longhorns limit Ingram's effectiveness and force quarterback Greg McElroy to beat them through the air? More on that question…
3. Can McElroy continue his late season production?
…now. For most of the season, Alabama has relied on two things to win games: Its defense and its running game. And given how good their defense and Ingram have been this season, it's hard to argue with the way the Tide does things. But it was evident in the team's win over Florida in the SEC title game that McElroy has made strides as a passer. He played with more confidence and made the most out of his throws while completing 12 of 18 passes for 239 yards and a touchdown. But keep in mind that Florida couldn't slow down Ingram or the Tide's running game, which helped stay 'Bama balanced and allowed McElroy to take advantage of open receivers in the passing game. If the Tide try to establish the run early on and the Longhorns shut it down, can McElroy win a game if he has to throw the ball vertically? That question won't have to be answered if 'Bama can stay balanced throughout the game. But UT defensive coordinator Will Muschamp will scheme to stop Ingram and Alabama's running game and force McElroy to go down field.
4. Can either team stop each other's X-factors?
This season, there was only one team that could honestly say it slowed down receiver Jordan Shipley and that was Oklahoma. In their 16-13 loss to Texas in mid October, the Sooners held Shipley to only 22 yards on four receptions. It was the lowest catch and yardage total for Shipley this season, as he racked up 106 receptions for 1,363 yards and 11 touchdowns. Shipley has also proven to be a playmaker in the return game, so the Tide must protect against him making a big play on special teams too. For 'Bama, Julio Jones compiled just 42 catches for 573 yards and four touchdowns, but even though his numbers pail in comparison to Shipley's, the sophomore wideout proved against LSU (four catches, 102 yards, 1 TD) that he's a playmaker. Both of these teams have solid pass defenses (Alabama ranks 7th in the nation in that category, while Texas ranks 23rd), but Shipley and Jones will test them from start to finish.
5. Will 'Bama start to read its own press clippings?
By the time the Crimson Tide and Longhorns square off on January 7, Alabama will have heard plenty of times how it should roll over a Texas team that struggled mightily against Nebraska in the Big 12 Championship. After somewhat flying under the radar by being in Florida's shadow all season, the Tide has already received plenty of recognition for the way they thumped the Gators in the SEC title game. Can Nick Saban keep them grounded? Or will 'Bama start believing its own hype now that they're the ones receiving all the attention?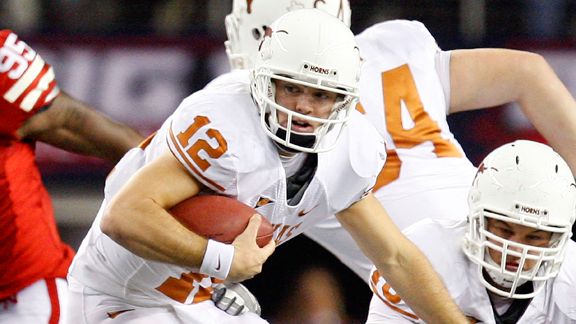 2010 National Championship Game Information:
Matchup: Alabama (13-0) vs. Texas (13-0)
Kickoff: 8:00PM ET
TV: ABC
Odds: Alabama -7
Talk trash about the game at our official BCS National Championship Smack Talk Thread.