Decade Debate: 10 Worst NFL Free Agent Signings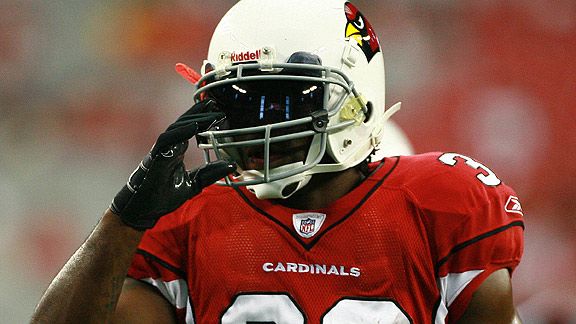 There's nothing worse for an organization then when it sinks a ton of money into a player that was supposed to turn around a franchise and instead he turns out to be a Grade A bust. As part of our ongoing Decade Debate series, here is a list of the 10 worst NFL free agent signings of the past decade. Whether it was because of performance, injury or the player's attitude (or a combination of the lot), these signings just didn't pan out.
10. Chuck Smith, Panthers, 2000/LeCharles Bentley, Browns, 2006

These players are listed together because they both fell victim to the same curse at separate times during the decade. After finishing as the Falcons' all-time leader in sacks at 58.5, Smith signed a lucrative five-year, $21 million deal with the Panthers. But after playing just two games for Carolina, a knee injury cost him the rest of the season, as well as his career. If only Bentley were fortunate enough to play two games. After signing a six-year, $36 million deal that included $12.5 million in guaranteed money, Bentley ruptured a patellar tendon on his first day of training game, which led to a series of staph infections that almost led to doctors having to amputate his leg. The Browns essentially paid him $16 million for zero games and while injuries are to blame for both of these players' misfortunes, they were nevertheless busted free agent signings for their respective teams.
9. Edgerrin James, Cardinals, 2006

The Cardinals opened up their wallet for James, who was coming off two consecutive Pro Bowl seasons with the Colts. But after shelling out a four-year, $30 million contract and committing $11.5 million in bonuses to the 28-year old back, James failed to rush for 4.0 YPC in each of his three seasons in Arizona. In his final year in the desert, James lost his starting job to Tim Hightower and managed only 514 yards on 133 carries with three touchdowns. Outside of a decent (and that's putting it generously) effort in the postseason last year, James was a huge disappointment in Arizona.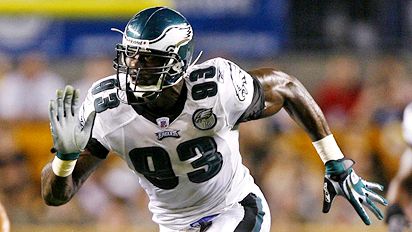 8. Jevon Kearse, Eagles, 2004

Kearse signed a record-breaking deal for a defensive linemen in 2004 when he inked an eight-year, $65 million contract with a $16 million signing bonus. He played well in the Eagles' Super Bowl season in 2004 and again in 2005, but his sack numbers dropped from 9.5 in his last year with the Titans, to 7.5 in his first season with Philadelphia. He played well again in 2005, but a knee injury ransacked his 2006 season and everything went down hill from there. He was accused of partying too much in the offseason of 2007 and then his production dipped so much during the season that he was actually benched in Week 11 for Juqua Thomas. The Eagles cut their losses the following offseason.
7. Daryl Gardner, Broncos, 2003

After handing him a seven-year, $34.8 million deal with a $5 million signing bonus, the former Dolphin and Redskin was suspended twice by the Broncos for conduct detrimental to the team and was a cancer in the locker room. He wound up playing in just five games for Denver, starting just two of them. The Broncos finally waived the ineffective, overpaid defensive tackle after reaching an undisclosed settlement after the 2003 season.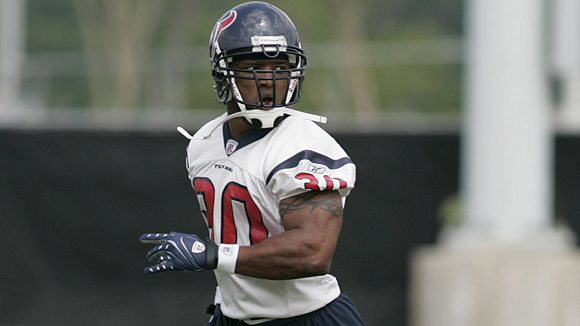 6. Ahman Green, 2007, Texans

In desperate need of a full-time back, Houston signed Green to a four-year, $23 million contract in order to reunite him with his former head coach Mike Sherman. The problem is that Green was coming off a serious injury and in only two seasons with the Texans, he finished with a paltry 554 yards and five touchdowns in 14 games. The injury-prone back could never stay healthy and thus, was dumped in February of 2009.
5. David Boston, Chargers, 2003

San Diego signed the brash, destructive Boston to a seven-year, $47 million deal, which included $12 million in guarantees over the first two seasons. At the time, it was the richest contract given to a player in Chargers' history and Boston rewarded the team by catching 70 passes for 880 yards and seven touchdowns. Of course, he was also suspended one-game for clashing with strength coach Dave Redding and also had separate disputes with teammate Reche Caldwell and head coach Marty Schottenheimer. After blowing $12 million on the receiver, the Bolts traded him to Miami after just one season in San Diego.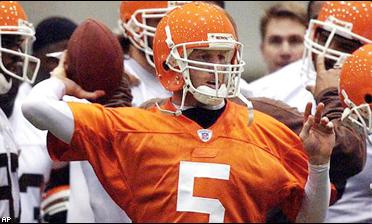 4. Jeff Garcia, Browns, 2004

The Browns thought they finally found their answer at quarterback when they signed the 34-year-old Garcia to a four-year deal worth $25 million in 2004. He had been to three Pro Bowls with the 49ers and provided the veteran leadership that Cleveland desperately needed. But in his first training camp, the veteran complained about not getting enough playing time and also bitched about the coaching methods of Butch Davis and Terry Robiskie. In only 10 starts with the Browns, he finished with a 3-7 record and even recorded a 0.0 QB rating in the second game of the season. He was released after just one season in Cleveland before going on to being a free agent bust for the Lions.
3. Adam Archuleta, Redskins, 2006

Hey, what do you know – another horrible free agent deal orchestrated by the mastermind, Daniel Snyder. After signing a seven-year, $35 million deal with $10 million in guaranteed money, Archuleta rode the bench for most of his first (and only) season with the Redskins. Despite being the highest-paid safety in NFL history at the time, he finished with zero interceptions and one sack. The only saving grace for the Redskins was that they were able to dump Archuleta (and his $5 million bonus) on the Bears in a trade that following March. After just one season in Chicago, the Bears released him and now the former first round pick is out of work.
2. Javon Walker, Raiders, 2008

The deal that the Raiders gave Walker in 2008 should be proof alone that Al Davis has nothing left between the ears. Despite being released by the Broncos after missing half of the 2007 season due to injuries, Davis handed Walker a six-year, $55 million deal with $16 million in guarantees. His first season started off with a bang, as he was beaten and robbed in Las Vegas and then was placed on injured reserve after catching only 15 passes and one touchdown in seven games. So far this season, he's played in three games and has exactly zero catches for zero yards. Good thing Oakland only owes him $27 million in the first three years of his deal.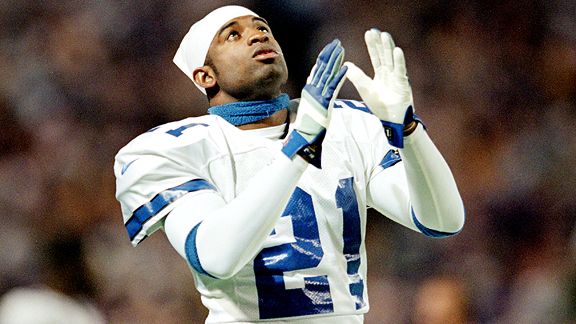 1. Deion Sanders, Redskins, 2000

After the Cowboys cut him in a salary cap dump, Redskins owner Daniel Snyder swooped in and handed Sanders a ludicrous seven-year, $56 million deal with an $8 million signing bonus. After signing the brash corner, Snyder deemed Sanders "the ultimate weapon in football." But while he did intercept four passes that season, Sanders was ineffective as a punt returner and his attitude rubbed loyal Redskins fans the wrong way. Given the tremendous class and leadership that Darrell Green exhibited during his time in Washington, "Neon Deion" acted like a prime time ass. Sanders clearly wasn't the same player that he was in previous seasons, yet Snyder felt it was a wise to pay him as such. Making matters worse, Sanders essentially demanded to be released following just one season in our nation's capital because he didn't want to play for coach Marty Schottenheimer. Talk about not getting what you paid for.
Honor Mention: Emmitt Smith (Cardinals/2003); Kerry Collins (Raiders/2004); Warren Sapp (Raiders/2004); Joe Johnson (Packers/2002); Marco Rivera (Cowboys/2005); Jeff George (Redskins/2000); Dexter Jackson (Cardinals/2003); Jeremiah Trotter (Redskins/2002).