The Saints have that Super Bowl feel about them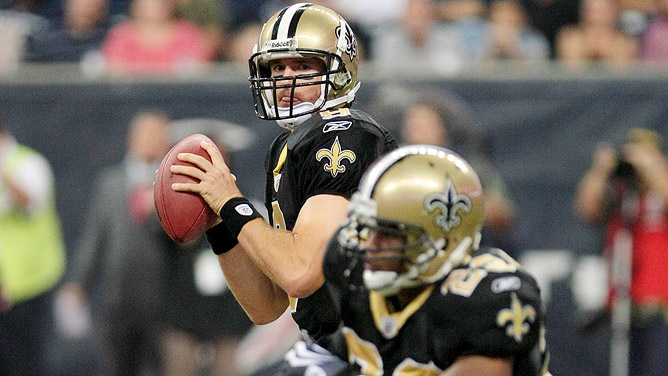 With their thrilling 35-27 win over the Falcons on Monday night, the Saints are off to their best start in franchise history at 7-0.
They were far from perfect tonight, but it's hard not to watch the Saints without getting a sense that this team is destined for big things. Their offense is balanced and can beat opponents in a variety of ways, while the defense is incredibly opportunistic and more aggressive under new coordinator Gregg Williams than they have been in years past.
Save for a fumble that led to a Falcons' defensive touchdown and an interception (what a play by Atlanta cornerback Brett Grimes) that killed a potential scoring drive, Drew Brees was incredible again tonight. Some of the throws he made were so perfect that he couldn't have walked them to his receivers any better. And speaking of his receivers, Marques Colston, Jeremy Shockey and Robert Meachem made some absolutely athletic catches with defensive backs draped on top of them. The one-handed grab that Shockey made in the fourth quarter to help set up the Saints' final touchdown was one of the best catches of the year.
The defense didn't play as well tonight as they had in previous weeks, but it certainly stepped up when it needed to. After the Saints had taken a 21-14 lead right before half, Jabari Greer jumped a poorly thrown Matt Ryan pass and took it 48 yards for a touchdown to give New Orleans a 28-14 halftime lead. Then, after Atlanta had recovered a fumble midway through the fourth quarter and was threatening to take the lead, Jonathan Vilma tipped a pass intended for Tony Gonzalez that Tracy Porter intercepted to kill a potential Falcons' score.
With how well the offense and new-look defense has played this year, it's easy to overlook the job Sean Payton has done. He and Brees often leave defensive coordinators scrambling for answers and nobody uses his complete compliment of players like Payton does. He also makes outstanding in-game adjustments, which was evident again tonight. (The Falcons failed to generate pressure on Brees after the first quarter because Payton switched up the Saints' pass protection schemes.)
At 7-0, the Saints are on the fast track to earning the top seed in the NFC, which is bad news for other NFC playoff contenders. The Falcons gave the Saints all they could handle for four quarters tonight and still wound up losing. They're just a different team in New Orleans.
The Saints have all the pieces to make a Super Bowl run this season and I can't wait to see how the Patriots stack up against them in a couple weeks.