Chiefs suspend Larry Johnson for two weeks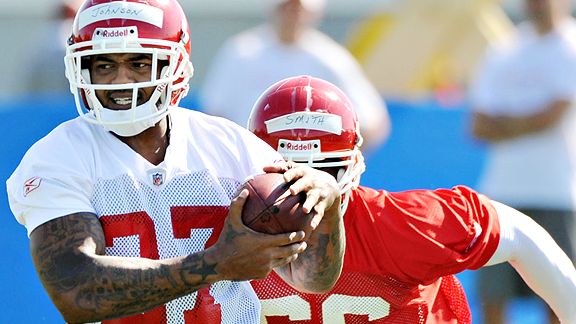 The Chiefs have suspended running back Larry Johnson two weeks for conduct detrimental to the team after he took a shot at head coach Todd Haley via his Twitter page last Sunday night. He also used a homophobic slur to degrade another Twitter user that had criticized him for his off-field troubles.
Kansas City is on a bye this week, so Johnson might only miss one game. But during the next two weeks, the Chiefs will evaluate backup Jamaal Charles and then see how Johnson responds to the punishment.
LJ should take a page out of Brandon Marshall's playbook and respond favorably to his suspension. When the Broncos suspended Marshall earlier this season, he apologized and then when he returned, he was on his best behavior. He hasn't complained since and now he's on an undefeated team that is considering re-signing him to a long-term extension.
Granted, Marshall and Johnson's situations are a little different. LJ isn't playing for a new contract like Marshall is and even if he does turn into a choirboy, the Chiefs have zero shot of making the playoffs (unlike the Broncos). That said, Johnson owes it to his teammates and his organization not to be a distraction, especially considering that he isn't even producing on the field. He does his team and himself more harm if he's a malcontent then if he just owns up to what he did and move on.
It'll be interesting to see what happens. The smart money is on Johnson being released either during or after the season. The Chiefs will probably make him suffer the rest of the year in Kansas City and then dispose of him in the offseason. Given his age, lack of production and off field issues, there's just no reason to keep him in a Chiefs uniform.