Lee, Utley power Phillies over Yankees in Game 1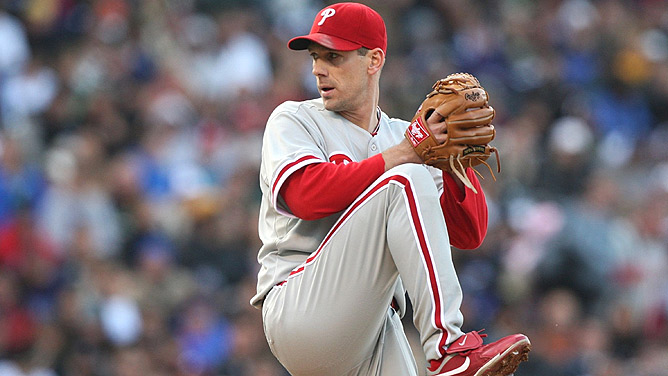 The Phillies gave up quite the package to acquire starter Cliff Lee from the Indians at the trade deadline, but that doesn't matter much now because he was definitely worth it.
Lee shut down the Yankees in Game 1 of the World Series, taking a shutout into the ninth inning of a 6-1 Phillies' win. If it weren't for Jimmy Rollins throwing the ball away in the ninth to give New York a run, Lee would have earned a shutout, although he'll certainly take a 10-strike out, zero-walk performance.
Chase Utley gave Lee and Philadelphia all the offense they needed, as he hit two solo shots off New York ace CC Sabathia. With his first home run of the game, Utley reached base in his 26th-straight postseason game, which broke Boog Powell's record from 1966-71. He was also the first player to hit two dingers in Game 1 of a World Series since Troy Glaus accomplished the feat in 2002 against the Giants.
If the trends from previous World Series hold up, the Yankees are in trouble. In the last six years, the team that has won Game 1 have all gone on to win the series, just as the Phillies did last year when they beat the Rays 3-2 in the 2008 opener.
Philadelphia played like a team that had been to the World Series the year before, while New York seemed a little uptight. Not to take anything away from Lee, but it's a little absurd for a Yankees lineup so filled with talent to only produce one run – especially given the park they play in. It was impressive how calm and collected Philadelphia's players were, it almost seemed like they were playing in a spring training game.
Now all the pressure is on the Yankees to win Game 2, because they can't fall behind 0-2 and then hit the road for three. The Phillies essentially accomplished their goal of winning one game in New York, but if they take Game 2 they'll certainly be in the driver's seat when they head back home.