Jones-Drew furious with Jaguars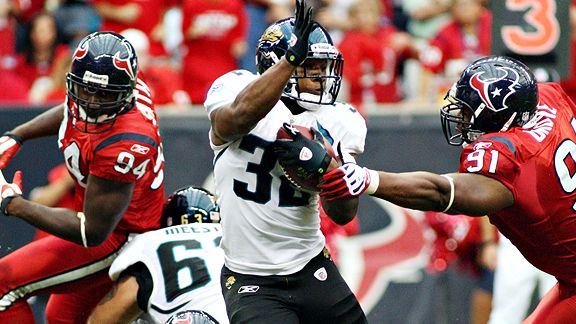 According to a report by ESPN.com, Jaguars' running back Maurice Jones-Drew is furious about the team's play-calling, its lack of offensive identity and its constant shuffling of offensive linemen.
In a 15-minute session with reporters Wednesday, Jones-Drew ripped several aspects of his team. He even called himself the second-highest paid "decoy" in the league, behind New Orleans running back Reggie Bush.

"I don't like to be embarrassed, so I do get upset about it," Jones-Drew said. "You lead by actions. You can only say so much. You can talk to somebody until you're blue in the face and they're not going to do anything. But if you go out there and show why you're upset and you try to do something to correct your mistakes, then they'll pay attention."

"It just seems like now if we don't get 30 yards [rushing], we just go away from it," said Jones-Drew, whose 75 carries are far less than Garrard's 169 passes. "I've never been a part of a team like that."
Jones-Drew goes on to talk about the offensive line being an issue because it's constantly being reshuffled and never has an opportunity to gel.
I can almost write a script about what happens next. At some point before Sunday's game against the Rams, Jones-Drew will apologize and say that he was 'frustrated' and 'just wants to win.' Then Jacksonville will go out and destroy a hapless Rams team on Sunday and winning will act like a cure-all.
Rants like these by frustrated players have a way of blowing over quickly. Nobody wants to lose 41-0 like the Jags did last week in Seattle, so players vent. Jacksonville does have a ton of issues, but for the most part the team has been competitive and guys like Jones-Drew are going to have to be patient as the young offensive line gains experience.