CC solid as Yankees take Game 1 from Twins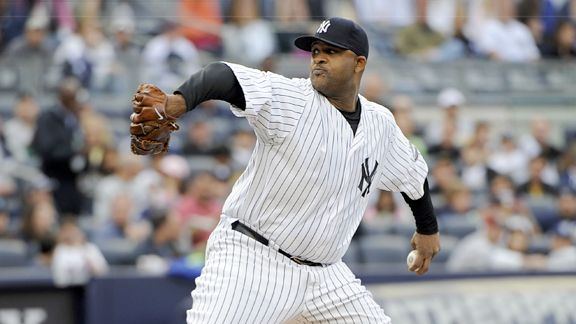 CC Sabathia allowed just two runs – one earned – over 6 2/3 innings in the Yankees' 7-2 win over the Twins in Game 1 of the ALDS. Derek Jeter and Hideki Matsui each had two-run dingers in the victory.
The Twins took the early lead with two runs in the third inning against Sabathia, as Michael Cuddyer followed two singles with an RBI hit. Sabathia had trouble ironing out sequences with Jorge Posada, crossed up for a second time as a passed ball ticked off the catcher's mitt with Joe Mauer sliding home safely.

The first miscue was on Posada, the second on Sabathia. But they found their rhythm in time to earn applause, as Sabathia clamped the damage there and kept the threatening Twins from bringing anyone further around. Sabathia had lost his past three playoff decisions for Cleveland and Milwaukee, but he was a winner on Wednesday.

Appropriately, Jeter drove in the Yankees' first postseason runs at the new Stadium, pulling a two-run homer into the left-field seats off Twins left-hander Brian Duensing to tie the game.

Swisher gave the Yankees the lead off the rookie Duensing in the fourth with a bullet double down the left-field line, sending Robinson Cano sliding home. As the go-ahead run scored, Swisher stood on second base, pumping his fist and pointing his two index fingers toward the sky.

A-Rod gave the Yankees needed insurance in the fifth inning, lining a run-scoring single to left-center field to send home Jeter and chase Duensing to the showers. It was Rodriguez's first hit with runners in scoring position in a span of 19 postseason at-bats, dating back to Game 4 of the 2004 AL Championship Series.
This was a perfect start for the Yankees. Not only did they take a 1-0 lead in the series, but Sabathia and A-Rod (two players that have earned criticism for their lack of production in the postseason) contributed in big ways, Jeter was as clutch as ever and Joe Girardi's club didn't overlook a pesky Twins team.
The key for the Bombers is sustaining this momentum and carrying it through an entire series. In the past, the Yankees have fallen victim to lackluster postseason play after racing through the regular season. They have a long way to go, but they couldn't have asked for a better start.