2009 NHL Preview: Phoenix Coyotes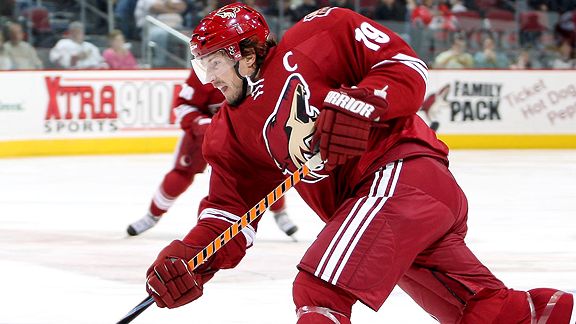 We've partnered with On Goal Analysis to bring you a team-by-team preview of the upcoming NHL season. (Just scroll down on the OGA website and hit the calendar.) Here is the preview for the Phoenix Coyotes…
SUMMER SPLASH
* Wow. What a summer it's been for hockey in the desert. Or the potential vanishing of the same. If you have yet to hear/read about the current bankruptcy hearings in court for the Phoenix Coyotes, all you really need to know at this point is the Phoenix (Glendale) Coyotes are staying put. For now. For a brief history, there's this: New arena built far from fan-base and team does not win enough games to convince locals to drive to Glendale. Guy from Canada wants to buy the team and park it near Toronto. NHL doesn't want to move/close/admit defeat/whatever with the club in Phoenix and now, temporarily, owns the franchise. It's a nasty affair and is still unsettled, but an emergency meeting for the parties involved has been called for by the federal bankruptcy judge overseeing the case. For more on this recent development, see the Coyotes site here.
* Everything typed above could change with the stroke of a pen from a judge. Everything typed above could change if this team comes out of the gates strong this season, wins and the fans remember where they put their car keys. The area is a tough market for a 'fourth' sport and this may be a case of sports-saturation. But considering this part of the southwestern US houses what are lovingly referred to as 'Snow Birds', you would think some of these Canadian and Michigan ex-pats would get their butts in the seats and enjoy some hockey. I'm just saying…
* Bridging the gap between management maneuvers and player moves, is the coach. In short, Wayne Gretzky may or may not still be the coach of the Coyotes. With his ties in ownership of the team and part of the bankruptcy filing, Gretzky is low-profile these days (read:AWOL) and the Coyotes are working through camp and the pre-season without him. Assistant coach Ulf Samuelsson is acting as head coach while the true status of Gretzky is unknown. He is still listed as the coach but is not coaching and the local media and fans are thinking a fresh start (no Great Big Salary behind the bench) might be the right skate forward.
Click here to read the rest of the preview (which includes the site's unique Playoff Qualifying Curve and fantasy information) at the On Goal Analysis site.