2009 NHL Preview: New York Rangers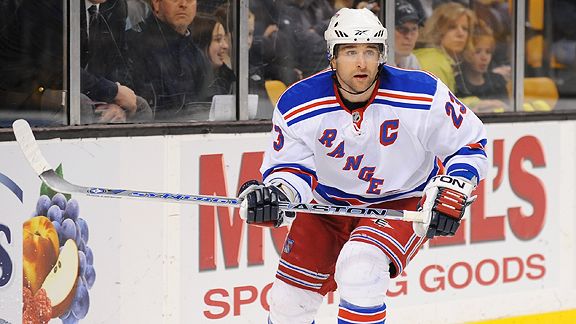 We've partnered with On Goal Analysis to bring you a team-by-team preview of the upcoming NHL season. (Just scroll down on the OGA website and hit the calendar.) Here is the preview for the New York Rangers…
Team Play: ISSUE – It's all about the "G", baby. Last season, the Rangers' biggest challenge was finding the back of the net. With just four 20+ goal scorers, led by Markus Naslund with 24 (Nik Antropov (28) doesn't count, as he scored 21 of his goals in a Maple Leafs' sweater), New York was one of only two playoff teams with a negative goal differential in the regular season (Columbus being the other). In fact, the Blueshirts' 210 goals in 08-09 tied them with the Lightning for 25th in the NHL.
Two of the Rangers' four "snipers" – Nikolai Zherdev and Markus Naslund – won't be back. In an effort to not just fill those holes in the lineup, but also to increase scoring, GM Glen Sather rolled the dice over the summer. On 1 July, he signed oft-injured sharpshooter Marian Gaborik. Should Gaby's groin/hip/whatever hold up (he has yet to play in a preseason game due to a 'tender groin'), he should be just what the doctor ordered: Gaborik has averaged better than a point per game in each of the last four seasons. On the downside, he's only played more than 65 games once in those four seasons.
The day before signing Gaborik, Sather pulled the trigger on a significant trade, sending underachieving pivot Scott Gomez to Montreal for winger Christopher Higgins, a proven 20+ man. On 9 July, Slats signed another 20+ club member, Ales Kotalik. Less than a week later, the Rangers dealt centerman Lauri Korpikoski to Phoenix for speedy winger Enver Lisin, who has been one of the Blueshirts' best skaters in September, and should join the 20+ club in 09-10. More recently, New York added veteran forward Vinny Prospal, boosting the number of proven or potential 20+ goal scorers on the roster to eight – nine if you count holdout center Brandon Dubinsky. Thus, the New York Rangers enter the 09-10 season with significantly increased firepower for new Coach John Tortorella's up-tempo "Safe is Death" system. The economy may still be in the toilet, but things are looking up on Broadway.
Click here to read the rest of the preview (which includes the site's unique Playoff Qualifying Curve and fantasy information) at the On Goal Analysis site.