Will the Redskins ever win under Snyder?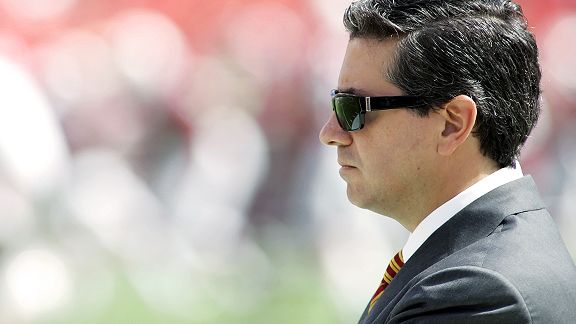 When it comes to examining the Washington Redskins, let's take our foot off Jim Zorn's neck for a second, shall we?
Since Daniel Snyder purchased the Redskins in May of 1999, they've had a winning record only three times in those 10 years (1999, 2005, 2007). In each of those winning seasons, they went to the playoffs but advanced no further than the first round. (And in 2007, they didn't even make it past the first round.)
During Snyder's reign as owner in Washington, the Redskins have been aggressive in free agency, inking notable names Bruce Smith, Jeff George, Deion Sanders, Jeremiah Trotter, Jessie Armstead, Randy Thomas, Lavernous Coles, John Hall, Phillip Daniels, Marvin Washington, Shawn Springs, Antwaan Randle El, Adam Archuleta, Andre Carter, London Fletcher, Fred Smoot, Jason Fabini, Albert Haynesworth and DeAngelo Hall.
But where has it gotten them?
This past offseason, Snyder made Haynesworth the richest defensive player in NFL history and so far, the Skins have an ugly win against the Rams and a loss to the previously 0-19 Lions to show for it. Granted, it's still early and Washington can turn things around, but a team doesn't lose to the Lions without having massive internal bleeding.
While Zorn is certainly to blame for many of Washington's issues, Snyder also needs to go under the microscope. He continues to shell out huge contracts to big name free agents without thinking about chemistry and cohesion. Worse yet, he hired a head coach in Zorn who clearly can't wrangle all of the personalities and get them to win as a team.
Under Snyder, the Redskins have become the second-highest grossing team in the NFL and the franchise's annual profit has increased nearly $100 million since he took over in 1999. But just because Snyder is a savvy businessman, it doesn't mean that the team will ever win under his stewardship.
If Snyder wants to open his wallet, he should do so next offseason to lure Bill Cowher, Mike Shanahan or Mike Holmgren out of retirement. If he can land one of those three, Snyder needs to relinquish all control over free agent signings and draft picks to said head coach because his offseason approach clearly isn't working.
There's a very good chance that Zorn won't last after this season. But if Snyder thinks that he can replace Zorn with another head coach with limited experience building a team from the ground up, then the Redskins will never win as long as he's watching over things from his owner's box.