Fantasy Quick-Hitters: Welker, Mendenhall, Forsett and more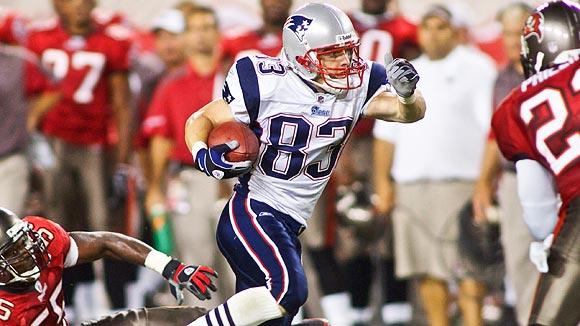 Bill Belichick: Wes Welker "was inactive because he wasn't able to play." Thanks for the information, Bill. Welker owners should absolutely have Julian Edelman on their roster, especially in PPR leagues. He's also worth a look for non-Welker owners who have a spot open on their bench. If Welker's injury lingers, Edelman is startable on a weekly basis. On Sunday, he ran all the same routes that Welker usually does and racked up 98 yards on eight receptions. He was targeted 16 times by Tom Brady. The Pats play in the first round of games on Sunday, so you'll know early on whether or not to put Edelman in your lineup.
Mendenhall's role to grow? HC Mike Tomlin insinuated that it will. Mendenhall had a 39-yard run in the third quarter of Sunday's game against the Bears, and showed a burst that neither Willie Parker nor Mewelde Moore seem to offer right now. The original plan was some sort of committee, so don't expect Mendenhall to take over and become a featured back. Even if Parker were to go down, Moore would be in on all third downs at a minimum.
The Seahawks planning to be without Hasselbeck in Week 3. Hasselbeck has a fractured rib and may not be able to play. Seneca Wallace isn't a bad backup and has been a productive fantasy player in the past. He wouldn't be a bad start for fantasy owners in two-QB leagues or for those owners that are in dire straits in standard leagues.
Cutler: Olsen "might have a 10-catch game coming up." Don't panic and cut ties with Olsen. He is still one of the most gifted pass-catching TEs in the league and his numbers will recover. He could have had a big game against the Steelers if not for a great hit along the sideline on a 20-yard catch (that jarred the ball loose) and a slip in the endzone on a sure-TD.
Justin Forsett coming on. I added him to my list of waiver wire acquisitions. Julius Jones is all right, but Forsett is gaining, and clearly outplayed him on Sunday. The Seahawks aren't married to Jones, as evidenced by the Edgerrin James signing. Since he has big upside, Forsett is a good guy to roster and is worthy of flex/bye week starts in PPR formats.