The Lakers never made an official offer to Ariza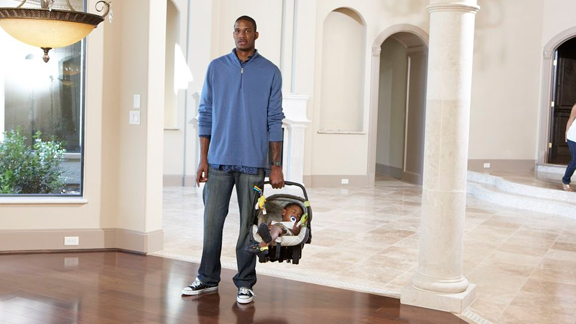 Trevor Ariza is featured in the most recent issue of ESPN The Magazine and in an article written by Sam Alipour, he discusses how he came to sign with Houston instead of staying put and re-signing with the Lakers. (Insider subscription required.)
That script began to be rewritten at the toll of free agency, 12:01 a.m. on July 1, one minute into the day after Ariza's birthday. He was still celebrating with family when he received a call from his agent, David Lee. "He said, 'The Lakers called, and they think you're worth only the midlevel,' " or $5.8 million a year, Ariza recounts. Technically, it wasn't even an offer. Says Lee of the Lakers GM, "Mitch Kupchak's exact quote was, 'We want Trevor on the cheap, and we're not going to make an offer. Find what the market will bear and come back to us.' "

Ariza was bummed. He'd been expecting something in the $7-to-8 million range, but he also knew the Lakers had committed $74 million to eight players, putting them well into luxury tax territory. And free agent Lamar Odom was still unsigned. "I thought, Fine, let's talk to some teams and see if anybody values me more," Ariza says. Later that morning, he headed to Vegas to cool out with family while fielding calls from suitors. The Cavs brought it hard. Mike Brown and Shaq phoned, LeBron texted, then met Ariza face-to-face. They eventually put a five-year, $33 million offer on the table.

But it was Rockets GM Daryl Morey who received the coveted dinner meeting that night. Like everyone else, Morey was taken with Ariza's selflessness, athleticism and offensive uptick, all of which made him a snug fit in Rick Adelman's free-flowing attack. But in his analysis, Morey, the league's top number cruncher, discovered something else, too. "We found Trevor's defensive impact to be at the top of his position," he says. "He was always our top free agent target, but on his defense alone, he was worth the money we had available for him." As he and Ariza were leaving dinner, Morey checked his voice mail. Ron Artest was LA-bound.

A few hours later, Ariza agreed to a five-year, $33 million deal with the Rockets, similar to what the Lakers had given to Artest.
No one but Laker GM Mitch Kupchak and Lee know for sure what was said during that initial phone call, but why wouldn't the Lakers put a solid offer on the table for Ariza to sign? He was hoping for more money, but he was going to have a tough time getting it elsewhere considering everyone and their brother was over the salary cap. The most that (most) teams could offer was a mid-level deal, and that's eventually the type of deal he signed.
Maybe he goes and talks to the Cavs and the Rockets and then comes back to L.A. because the money is the same. But that didn't happen, and it sounds like the Lakers' decision not to extend an offer to Ariza allowed the team to quickly change course to pursue Ron Artest.
Still, chemistry is a fickle thing, and there's no guarantee that Artest is going to fit in with the Lakers. Ariza is younger, has more upside and is much less of a wild card than Artest, and the Lakers may one day regret not making that mid-level offer to Ariza during that initial phone call.