Meyer, Kiffin exchange verbal barbs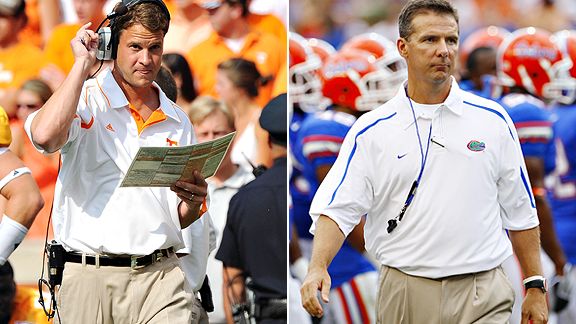 Apparently nobody told Florida's Urban Meyer and Tennessee's Lane Kiffin that the game is over.
In looking back at the game, Meyer said Sunday he probably should have opened up the defending national champs' offense. But he said there was no reason to because of the Vols' conservative approach to their own offense.

"When I saw them start handing the ball off, I didn't feel like they were going after the win," Meyer said.

"The way we lose a game there is throw an interception. Why put yourself in that position? Let's find a way to win the game. We're not trying to impress the pollsters.

We're trying to win the game. A lot of it had to do with the way they were playing. It made our life a little easier."

Kiffin said he put his Volunteers in the best position they could be in to beat Florida. Then he took one more shot at Meyer, who said several of his players had been hit by the flu.

Asked whether he was worried about the flu also hitting Tennessee, Kiffin said: "I don't know. I guess we'll wait and after we're not excited about a performance, we'll tell you everybody was sick."

"They wanted to shorten the game. I remember looking out there and there's 10 minutes left in the game and there's no no-huddle, they are down, I think it was 23-6 and [there's no] urgency," he said.
I can't believe I'm writing this, but I actually side with Kiffin here. This sounds like Meyer is trying to make excuses and deflect attention away from the fact that his team didn't give Tennessee the beating of a lifetime when everyone expected them to. Watching Florida defeat Tennessee by 10 points was like waiting all week in school to watch a huge fight at the flagpole and instead both kids exchanging blows, they came out slapping each other.
The Gators may have won, but they weren't impressive. And as I wrote after the game, maybe that's the medias fault for hyping up a Tennessee massacre but the bottom line is that thanks to Monte Kiffin's defense (and Tim Tebow's second half fumble), the Vols were able to keep things relatively close.
As far as Tennessee not showing any urgency, Kiffin is right – he put the game in the hands of his tailbacks, which were the only offensive production the Vols had. Kiffin knew that defense and his running game were the only things that were going to get him a win, so he stuck to that plan.
Meyer should move on. Florida got the win and that's the most important thing. Maybe the massacre at the flagpole will come next year.