Jets serious about trading for Marshall?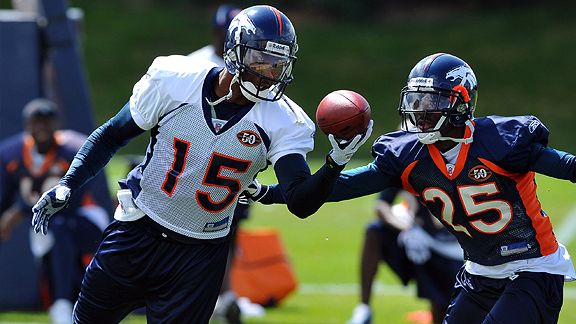 According to Bob Glauber of Newsday, the Jets are seriously exploring the possibility of trading for disgruntled Broncos wideout Brandon Marshall.
Although coach Rex Ryan repeatedly has said he is satisfied with his receivers, the Jets have taken a look at acquiring an established receiver. Jerricho Cotchery is the Jets' only proven veteran receiver.

It is believed the Broncos would want a first-round draft pick in any deal for Marshall, but it is unlikely the Jets would pay that high a price.
Actually, it's been reported that the price is a first and a fourth round pick for Marshall. So if the Jets are unlikely willing to pay that price, it's doubtful that they'll peek the Broncos' interest enough to engage in trade talks for Marshall.
That said, Denver has to be nearing the end of its rope. Josh McDaniels has already suspended Marshall for conduct detrimental to the team and at some point enough is enough. Maybe if the Jets offer a package of a second and a fourth round pick, the Broncos will bite. Maybe.
Chances are that the Broncos are going to at least see how Marshall reacts to his suspension and then decide what to do from there. His trade value is at an all-time low and considering he's a Pro Bowler, they don't want to get sucked in by a lowball offer. The Broncos could be hoping that he returns from his suspension with a new attitude and either they can hang onto him, or he'll up his trade value and then they can get a first rounder in exchange for his services.
Update: ESPN News is reporting that the Broncos want LB David Harris in exchange for Marshall, although that hasn't been confirmed yet.