Jets name Mark Sanchez starting quarterback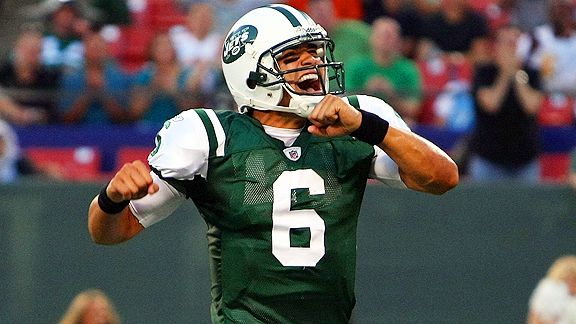 Even following his rough outing in the Jets' second preseason game on Monday night, head coach Rex Ryan named rookie Mark Sanchez the team's starting quarterback.
Despite a rough start against the Ravens in his last preseason game, Sanchez never lost his cool and battled back. The team has been impressed with his command of the huddle and the offense. Sources say the team has been impressed with how much he has not looked like a rookie. Drafted out of USC, Sanchez has gone 6-of-12 in two preseason games, with one touchdown pass and one interception.

Clemens, in his fourth season, is 9-of-14 for 84 yards in the preseason. He also has one score and one pick. Entering his fourth season with the Jets after being a second-round pick in 2006, Clemens also had a solid but unspectacular camp, but threw 12 interceptions compared to the rookie's five.
I'm sure Ryan would have wanted a better performance out of Sanchez on Monday night before he made his decision official, but it's not like Clemens did anything this summer to merit the job, so why delay the announcement?
The good news for Sanchez is that the Jets offensive line is solid. They also have a trio of backs in Leon Washington, Thomas Jones and rookie Shonn Greene that are more than capable of taking some of the pressure off Sanchez in his first year.
The bad news is that the Jets aren't giving Sanchez a lot to work with in terms of receivers. Jerricho Cotchery is underrated and has been a consistent, productive receiver throughout his career. But he's not a player that will keep defensive coordinators up at night and after him, the Jets will rely heavily on the inexperienced crop of Chansi Stuckey, David Clowney and Brad Smith.
If Sanchez continues to show the poise he did on Monday night when things weren't going his way, he should do fine. That's not to say that he'll have a Matt Ryan or Joe Flacco-type rookie year and lead the Jets to the playoffs, but success can't always measured in whether or not a quarterback can get his team to the postseason. (Especially if said quarterback is a rookie.)
Don't go crazy on draft day and pick Sanchez in the middle rounds. He's a rookie QB, and they're notoriously undependable in fantasy circles, especially with all the depth available in leagues that only start one QB. It probably would have been better for the Jets WRs (especially Cotchery) if Clemens had won the job, as the two had shown a nice rapport in the past. Sanchez will no doubt have his ups and downs, so that means the Jets receivers are likely to as well.