Gonzo struggling to adapt in Atlanta?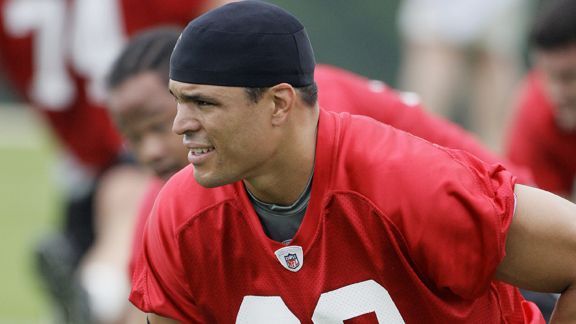 In Chris Mortensen's training camp preview of the Atlanta Falcons, Tony Gonzalez admits that he's struggling to adapt to his new surroundings.
"I'll admit I'm still somewhat uncomfortable," said Gonzalez. "I'm learning a new offense, I'm making new friends, learning a new freeway system. All the things going into switching teams, I'm going through it right now and it's kind of tough, like being a rookie all over again."

Is that a good or bad thing?

"I think it's going to help make me a better player," said Gonzalez.

"You get in a whole new system, I'm blocking more at the point of attack, I have different route-running schemes and I'm working with a new quarterback. I think that helps you grow. When you're uncomfortable like that, or taken out of your element, you either adapt to it or you don't. When you see the talent on this team, you are motivated to adapt."
Gonzalez is the consummate pro, so chances are he'll eventually settle into his new situation and be productive. And considering the amount of time he spent in Kansas City, it's understandable that it's taking a while to get adjusted in Atlanta.
But considering the amount of blocking that he's going to do in Atlanta's offense, he might not have the kind of impact that many thought he would when the Falcons traded for him earlier this offseason. That's not to say that he won't be effective; he just might not tear up the stat sheet in Atlanta like he did for so many years in KC.
That said, he's still going to be a security blanket for quarterback Matt Ryan, especially in the red zone and on third downs.

Gonzo was the top TE last season, but changing teams is never easy, so for that reason I believe that Jason Witten and Antonio Gates — who have had more consistency this offseason — are primed to outscore Gonzalez. Plus, the Chiefs were trailing for most of 2008, and that lends itself to catches and yards in garbage time. The Falcons should be leading games in the second half, so that means more Michael Turner and less Gonzo.