No suspension coming for Fielder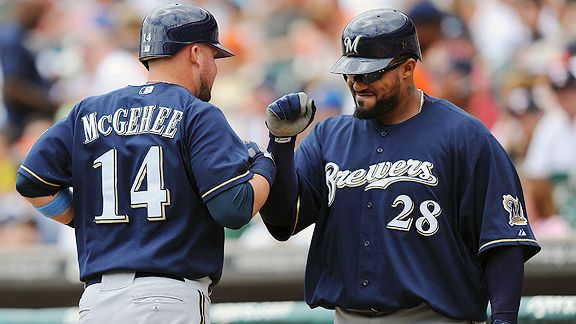 Major League Baseball has decided not to suspend Brewers first baseman Prince Fielder after he attempted to barge into the Dodgers' clubhouse following a game Tuesday night in L.A. Fielder was upset after being on the receiving end of a retaliation pitch by Dodgers reliever Guillermo Mota and had to be stopped by teammates and security guards outside of L.A.'s clubhouse when he attempted to confront Mota following the game.
From the Milwaukee Journal-Sentinel:
More surprisingly, MLB isn't suspending Dodgers reliever Guillermo Mota or manager Joe Torre, either. The penalties are undisclosed fines for Fielder and Mota and no suspensions.

Mota obviously intentionally hit Fielder with a pitch in the ninth inning of a 17-4 loss in retaliation for Manny Ramirez being hit earlier in the game. And Torre obviously ordered it, which catcher Russell Martin admitted to after the game.
As several of our readers pointed out yesterday, if Fielder was that angry about Mota's retaliation pitch, then he should have confronted the reliever on the field during the game. Why he wanted until after the game is beyond me, unless he knew that his teammates would eventually stop him and thus, he wouldn't have had to throw any punches in front of a stadium full of people. (Hey, maybe he was thinking about the children and their innocent, fragile minds.)
Either way, it is surprising that neither Mota nor Torre will face any punishment. Usually MLB hands out one or two game suspensions for incidents like this one, although maybe the league thought that if they weren't going to suspend Fielder, they couldn't touch Mota or Torre either.