Michael Crabtree to re-enter draft?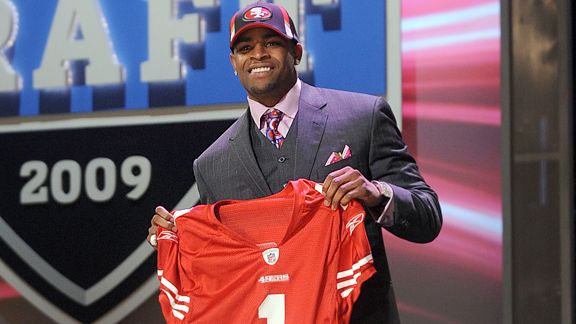 According to a report by ESPN.com, the cousin and adviser (whatever that entails) of Michael Crabtree states that the rookie wideout is prepared to sit out the entire 2009 season and re-enter the NFL draft in 2010 if he doesn't get fair market value in terms of his contract.
"We are prepared to do it," Wells said. "Michael just wants fair-market value. They took him with the 10th pick and you have Darrius Heyward-Bey [the seventh overall pick by the Oakland Raiders] getting $38 million? This week is crucial. Michael was one of the best players in the draft and he just wants to be paid like one of the best players. This week is very crucial."
Crabtree's agent, Eugene Parker, says that no such threat has been made, although he also says that the 49ers' initial contract offer is not acceptable. Profootballtalk.com suggests that Parker had promised Crabtree that he would be drafted in the top three and now is trying to get the rookie top three money, although that hasn't been proven.
I highly doubt that Crabtree will sit the entire 2009 season if he doesn't receive the contract that he and his agent wants. Besides, it wouldn't be in his best interest to do that, seeing as how teams picking at the top of the draft next year would likely stay away from him knowing that he was out of football for a year and would be a hassle to sign.
I'm assuming that San Fran will have to get close to the number that the Raiders gave Heyward-Bey, although I don't blame the Niners if they feel that they don't have to match that number considering Heyward-Bey was taken three spots ahead of Crabtree in the draft. Considering the rookie salary structure is already screwed up, teams shouldn't have to pay players for the draft slot that their agents felt they should have been taken in.