Dodgers, Indians in discussions about Lee and Martinez?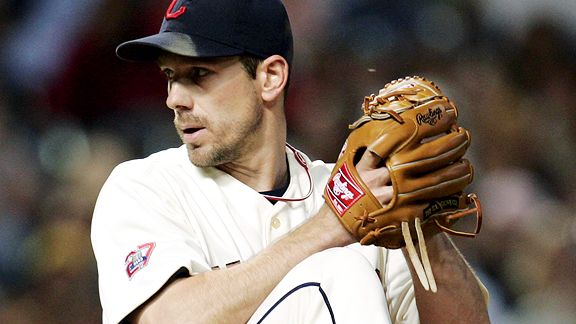 Ken Rosenthal of FOXSports.com is reporting that the Indians and Dodgers are in serious discussions about a possible trade that would send Cliff Lee and Victor Martinez to the Dodgers for a package that would include either Clayton Kershaw or Chad Billingsley.
Top club officials from both teams strongly denied a FOXSports.com report saying that the teams were in serious discussions about a blockbuster that would send left-hander Cliff Lee and catcher Victor Martinez to Los Angeles for first baseman James Loney, one of the Dodgers' young rotation members and prospects.

Those names have at least surfaced in internal discussions on both sides, but a deal involving those specific players is not under consideration, the club officials said.

The Dodgers have had steady interest in Lee. They have not discussed Martinez with the Indians, one source said, but some club officials evidently view Martinez as another potential upgrade.
One thing is clear: The Dodgers are exploring ways to improve a team that has built a wide lead in the NL West and the best record in the National League.
Wow. L.A. would be giving up a ton of young talent, but one of the unwritten rules in baseball is that if you have a chance to win now, you take it. And the Dodgers definitely have a chance to win now.
Personally, I think losing Kershaw would be a bigger blow to the Dodgers than losing Billingsley, who has electric stuff but seems streaky. At the ripe age of 21, Kershaw has been outstanding this season and has the highest ceiling of any pitcher in L.A.'s organization, which is why it's understandable that the Tribe would want him in return for a deal that included Lee.
But still, the Dodgers would be getting Lee, who I'll stop shy of saying is a guarantee in terms of production. Martinez (who's hitting .287 with 14 home runs and 64 RBI this season) would also be an excellent addition to the Dodgers' already solid lineup. This is a deal that could essentially put L.A. over the top and considering Lee and Martinez's salaries can be controlled next season, a move that could make the Dodgers World Series contenders not just for this year, but next year as well.
Even though this is just a rumor I'm a big believer in, where there's smoke, there's fire. And there's a ton of smoke coming out of L.A. and Cleveland at the moment.