Red Sox trade Lugo to Cardinals for Duncan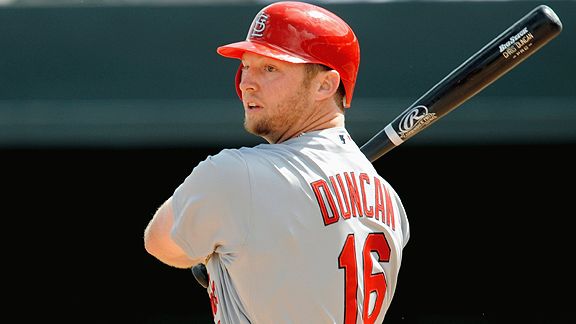 The Boston Red Sox actually found a taker for shortstop Julio Lugo. And get this: They even got something in return!
On the same day the BoSox traded for Pirates' first baseman Adam LaRoche, they also acquired Chris Duncan from the Cardinals in exchange for Lugo, whom Boston will still have to pay $13.5 million over the next two and a half years.
Of course, trading Lugo for Duncan is like swapping your broken Neo-Geo for your buddy's broken Sega Genesis. Neither team is getting anything of any real value, although both clubs have to be glad to get the stench of these players out of their organizations.
Lugo gives the Cardinals an experienced backup at shortstop who provides depth off the bench, although his defense is brutal, he can't hit and his speed has seriously diminished. So…good luck with that.
In Duncan, the Red Sox get something for Lugo, although that something is a 28-year-old outfielder that has no upside, can't hit and is a liability on defense. But again, they found a trade partner for Lugo, whom they would have taken a big bucket of sunflower seeds and an extra rosen bag for. Maybe a change of scenery will help Duncan realize his mediocre potential and he'll develop into a decent bat off the bench. But if he doesn't, Theo Epstein and company isn't going to lose sleep over it.
Anyone up for some Sonic the Hedgehog?