Red Sox trade two minor leaguers for Pirates' Adam LaRoche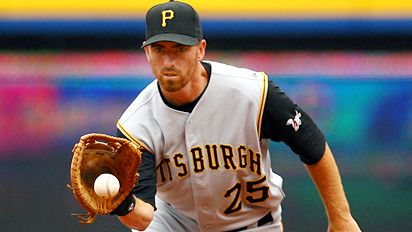 The Red Sox found their answer for spelling the oft-injured Mike Lowell as they traded for Pirates' first baseman Adam LaRoche on Wednesday. Pittsburgh acquires minor leaguers Argenis Diaz and Hunter Strickland in the exchange.
This isn't going to be a move that sets Boston apart from the Yankees or Rays in the AL East, but on the days Lowell needs to rest his fickle body, Kevin Youkilis will slide over to third and LaRoche – who is an upgrade over Mike Kotsay – will play first. BoSox fans aren't going to do back flips in the streets after this move (especially considering LaRoche is hitting below .250 and his defense is below average), but they didn't give up much and he gives them a better bat than Kotsay in a three-man platoon with Youkilis and Lowell.
As for the Bucs, they did well getting two young players for LaRoche, who becomes a free agent after this season and wasn't going to be worth bringing back anyway. Garrett Jones (who apparently is Mickey Mantle of all a sudden) can now slide over to first to fill LaRoche's vacant spot in the field.
Comment fodder: Are the Red Sox done, or will they still pursue another bat? And now that they've shipped LaRoche out of town, is Freddy Sanchez the next one to be traded by Pittsburgh?