Should White Sox give up farm for Halladay?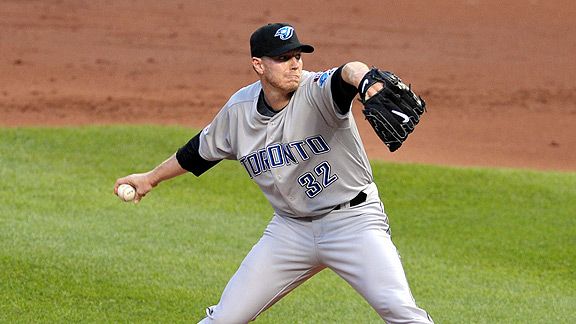 Rick Morrissey of the Chicago Tribune writes that the White Sox should be willing to give up a significant amount of talent in order to acquire Blue Jays' ace Roy Halladay.
Let's put on our GM cap and start with shortstop Alexei Ramirez and pitcher John Danks. I know: a steep price. But worth it. Halladay is the overpowering pitcher the Sox haven't had since Jack McDowell. Last season, he struck out 206 batters and walked 39. So far this year, it's 106-17.

He would be a difference-maker for a club like the White Sox, who are within 1 1/2 games of first place in the American League Central. How does a rotation of Halladay, Mark Buehrle, Jose Contreras and Gavin Floyd sound? It makes all the heated conversations about a fifth starter seem almost meaningless.

The White Sox played well enough before the All-Star break to end any discussion about whether they'll be sellers before the July 31 trade deadline. Now they need to be buyers. It very well could be that they would have to give up a prospect or two in addition to two major-leaguers. Do it.
Not that I disagree with what Morrissey wrote, but allow me to play devils advocate here.
Halladay is a free agent after the 2010 season and will mostly likely test the free agent waters searching for his last opportunity to win a championship (assuming of course he doesn't win one this season or next). That means the White Sox will probably only get him for a year and a half. Is a year and a half of Halladay worth giving up Ramirez, Danks and two decent prospects for X amount of years?
It might be, but that's a steep price. Kenny Williams would absolutely have to feel that Halladay makes the Sox legitimate World Series contenders to give up multiple pieces. If he doesn't fully believe that Halladay gets them to the WS, then Williams needs to continue his rebuilding plan with the core he has.