Felton, Bobcats not close to a deal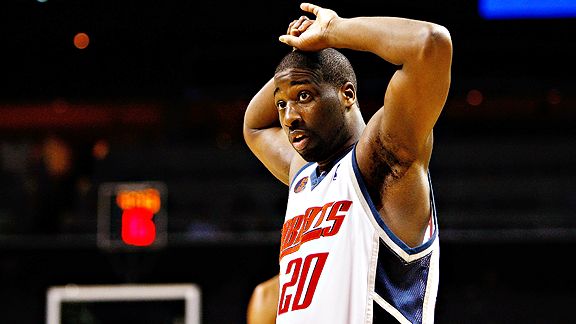 Raymond Felton is having a tough time coming to terms with the Charlotte Bobcats on a new deal.
"We're definitely not close as far as what we're discussing and what we think fair market [value] is for Raymond," Bradbury said Wednesday, a day after the meeting.

While Bradbury declined to discuss numbers, he indicated there was a surprisingly hefty difference in the deals he and Higgins proposed for the restricted free agent point guard.

Felton, the Bobcats' first-round pick in 2005, has maintained he wants to stay in Charlotte. After averaging 14.2 points and 6.7 assists last season and winning over coach Larry Brown, the Bobcats have made re-signing him a top offseason priority.

The Bobcats could match any offer he receives, and Bradbury said he's had some informal talks with teams. Felton could also sign the one-year tender of $5.5 million and become an unrestricted free agent next season.
Here's what I wrote about Felton for our 2009 NBA Free Agency Preview:
8. Ray Felton, G (25)
PER: 13.80
Felton has been a 14/7 guy the last three seasons, but his shooting (41% from the field, 29% from long range) is fairly brutal. He's a pretty good playmaker and his overall efficiency would benefit if he focused more on distribution than scoring. He spent much of last season playing out of position alongside D.J. Augustin in the backcourt, but given the right situation and the right guidance, he has the potential to be a very good point guard. His rep is bigger than his game right now, which might lead to a wake up call when it's time to talk turkey.
Value: $4.5 – $5.5 million per year
Unfortunately for Felton, those 14.2 points and 6.7 assists don't tell the whole story. In four seasons, he has cracked a Player Efficiency Rating of 14.00 just once, and that was in his rookie year. His PER of 13.80 last season was 31st amongst point guards, so the numbers say that he is a fringe starter.
I'm guessing that Felton and his agent look at his overall numbers and his age (25) and think that means his market value is somewhere in the range of $8-$9 million per year. The problem here is that Felton posted those solid numbers for a bad team. Since Felton's arrival, the Bobcats are 126-202 (.384), so it's not like he's posting 14 points and seven dimes for a playoff team. Last year, instead of drafting for need, they selected D.J. Augustin, who is off to a great start statistically with a PER of 14.95. The Bobcats don't really need Felton, so they're probably looking for a deal averaging around $5-$6 million per season.
This is a classic case of the two sides having vastly different opinions on a player's worth. My guess is that Felton plays out the season in the final year of his rookie contract and hits free agency in 2010.