Terrell Suggs to get $63 million deal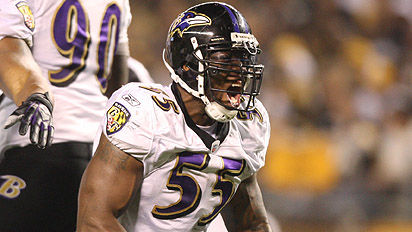 It appears that the Baltimore Ravens were finally able to sign their most productive defensive player to a new contract, as reports state that linebacker/defensive end Terrell Suggs has agreed to a six-year, $63 million deal. He'll also make $38 million in guaranteed money and will be paid $40 million in the first two years.
That's a lot of dinero for one player (he's now the NFL's richest linebacker), but Suggs is worth it. He's proven to be a force in the Ravens' front seven and his versatility is unquestioned. His ability to get after the quarterback makes him incredibly valuable to the Baltimore defense and at only 26, he still has a ton of good years left.
What'll be interesting to see unfold this year is how the Ravens do without the underrated Bart Scott, who signed a free agent deal with the Jets earlier this offseason. Scott didn't get the attention Suggs and Ray Lewis did, but he was incredibly productive and a sound player on Baltimore's defense. Of course, one could make the argument that a lot of plays were flushed his way because of the attention that offenses paid to Suggs and Lewis, but that doesn't take away from Scott's production.
With Suggs and Lewis back in the fold, the Ravens' defense will once again be solid. But there will be a ton of pressure on youngster Tavares Gooden to step up and fill the void left by Scott.