Lincecum, Halladay to start in All-Star Game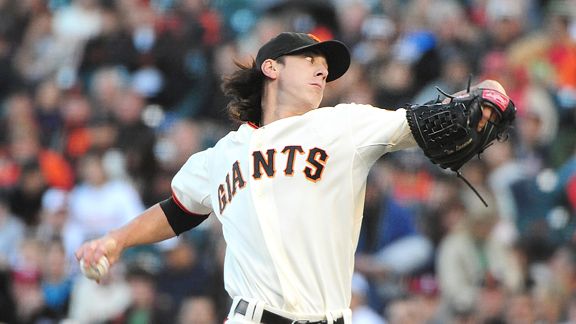 Giants' ace Tim Lincecum will oppose Blue Jays' starter Roy Halladay in tomorrow night's All-Star Game from St. Louis. Lincecum is 10-2 at the break with a 2.33 ERA, while the "Doc" is 10-3 wit a 2.85 ERA.
Albert Pujols will bat third for the NL behind Marlins' shortstop Hanley Ramirez, who will bat leadoff, and Phillies' second baseman Chase Utley, who will be in the two-hole. Brewers' outfielder Ryan Braun will bat cleanup for the NL and be followed by Raul Ibanez (Phillies, left field), David Wright (Mets, third base), Shane Victorino (Phillies, centerfield) and Yadier Molina (Cardinals, catcher).
The AL will have M's right fielder Ichiro Suzuki leading off, followed by Yankees' shortstop Derek Jeter and Twins' catcher Joe Mauer. Yankees' first baseman Mark Teixeira will bat cleanup, followed by Jason Bay (Red Sox, left field), Josh Hamilton (Rangers, centerfield), Evan Longoria (Rays, third base) and Aaron Hill (Blue Jays, second base).
No word yet on when Dodgers outfielder Matt Kemp and Giants third baseman Pablo Sandoval will get in………….they didn't get in? Jayson Werth? Jayson Werth?!
Just kidding – Werth deserved to go. By no means did he and his .260 batting average get in only because Charlie Manuel is managing the NL.
Again, just kidding. I know Werth has already popped 20 dingers and has driven in 56 runs this year. His numbers have been great both at home at that little league field Philadelphia calls a stadium, and on the road. I just hope for Manuel's sake that Werth contributes, because Kemp and Sandoval have been freaking outstanding this year and deserved that final spot (the one that opened because of Carlos Beltran's injury) as much as Werth did.