An argument against trading the farm (literally) for Halladay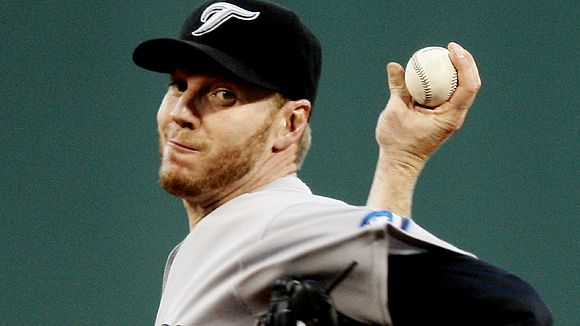 Let's say you're the GM of the Los Angeles Angels of Anaheim/Hermosa Beach/San Mateo, California. Your club is currently in a battle with the Texas Rangers (who have an outstanding lineup by the way) in the AL West and you learn that Toronto, at the very least, is listening to offers for ace Roy Halladay.
Roy Halladay!
You're beside yourself thinking of the possibilities of a starting rotation that features "the Doc," John Lackey, Jered Weaver, Joe Saunders and Ervin Santana. You think to yourself, "There's no way the Rangers will be able to handle a rotation like that. In fact, there's no way the Red Sox, the Yankees or even Moses himself could overcome that starting five!"
It's true – Halladay is a bad man. He currently sports a 10-2 record with a 2.79 ERA and a dazzling 1.09 WHIP. He would make any good rotation great and any great rotation into a World Series-caliber machine. He's that good and probably worth sacrificing future pieces for.
But considering Blue Jays' GM J.P. Ricciardi is probably looking for an overwhelming deal (assuming he really is considering trading Halladay and this isn't just one big media tease), is Halladay worth the price (both financially and in terms of prospects) for a year and a half? Remember, he becomes a free agent at the end of the 2010 season and given his age, he's going to want to test the market to play for a contender of his choosing.
Let's stick with the Angels theme. If you're GM Tony Reagins, a deal for Halladay would probably mean giving up pitching prospects Jordan Walden and Trevor Reckling, as well as hitters Brandon Wood and Hank Conger. (And maybe even another mid level farm piece.)
Is it worth it? Reckling and Walden are the future of the rotation, Wood is one of the best hitting prospects in the minors and the organization feels as though Conger has a bright future. Don't forget that Lackey is a free agent after this season and Halladay will be free to test the market after 2010. The Halos are going to need Reckling and Walden in the rotation soon if Lackey jets and Halladay (if acquired obviously) departs after next season.
Maybe giving up a package like that is worth it for Reagins and the Angels. If Halladay helps you win a World Series this year, then great right? Isn't winning the World Series the ultimate goal? And besides, Reckling, Walden, Wood and Conger are all fine prospects, but there's no guarantee that they'll ever produce in the big leagues. They could all go to the Jays and rot in Toronto for the next four or five years while the Halos are sporting 2009 World Series rings. Plus, Halladay is as close to a guarantee as a team will ever get.
But baseball is shifting back to a young man's game. The Rays proved last year that you could build a winner through your farm system and not only compete for one season, but also three or four. Plus, when was the last time a team made a blockbuster move around the trade deadline and have it pay off? It didn't work for Milwaukee last year when it acquired CC Sabathia from Cleveland and it didn't pan out for Atlanta in 2007 when it gave up a slew of prospects for Mark Teixeira.
Granted, there have been midseason trades that have panned out for the team acquiring the bigger piece. But in most cases, giving up a ton of young prospects for what should have been a meal ticket to the World Series proves to be a fruitless adventure.
Trading for Halladay sounds thrilling for a contender like the Angels, or the Dodgers, or the Yankees, or the Red Sox, or the Phillies. But unless you're getting a World Series title, can be assured Halladay will stick around past 2010, or can somehow avoid giving up your top prospect, it's probably a wise decision to pass.